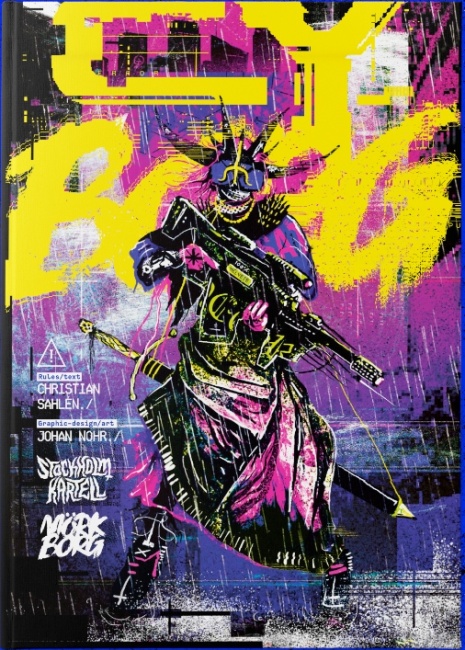 Free League Publishing has partnered with Stockholm Kartell to produce
CY_BORG
, a dystopia-based science fiction role playing game built on the
MORK BORG
game engine.
Inspired by dark industrial and underground hiphop music, CY_BORG puts players in the role of cybernetically-enhanced outcastes in a dark world of late-stage capitalism, climate collapse, and senseless violence. The players confront powerful corporations, corrupt police, street gangs, and cults as they attempt to survive in the sprawling metropolis of Cy as inevitable apocalypse looms ever closer.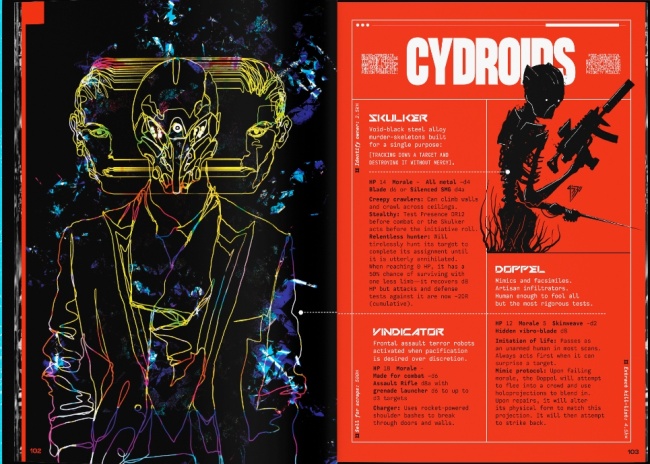 Written by Swedish RPG veteran Christian Sahlen and illustrated by Johan Nohr (
MORK BORG
), the 160-page rulebook includes an introductory adventure to get players into the action quickly and 60 charts and tables to help gamemasters quickly construct their adventures. The book also details the
CY_BORG
world and features an updated version of the rules-light system used in
MORK BORG
(see "
Blackened Artpunk RPG 'MORK BORG' Will Release into Trade in February
").
Click Gallery below to see sample pages from the book.
The game will be published under the Free League Workshop label, with Free League handling the production and distribution of the game. Release date and MSRP have not been announced. The company plans to raise funding for the project through Kickstarter.
Chris McDowall's Into the Odd was published earlier this year under the Free League Workshop label (see "Explore Weird Fantasy in Fee League's 'Into the Odd' RPG").