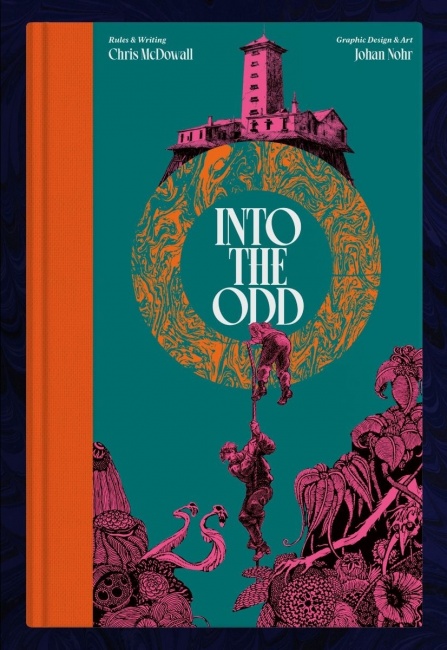 Free League Publishing has teamed up with
Electric Bastionland
creator Chris McDowall to produce
Into the Odd
, a tabletop role playing game of weird fantasy and industrial horror releasing next April.
Into the Odd is a new version of the 2014 game with expanded source material. Players become Explorers, setting out from the city of Bastion into an unknown expanse in search of wealth and mysterious Arcana that can grant supernatural abilities. The game system is designed to be fast-paced and minimalist, with a focus on problem-solving and teamwork instead of statistics and ability scores. Players must creatively use their Arcana to overcome challenges and confront horrifying monsters.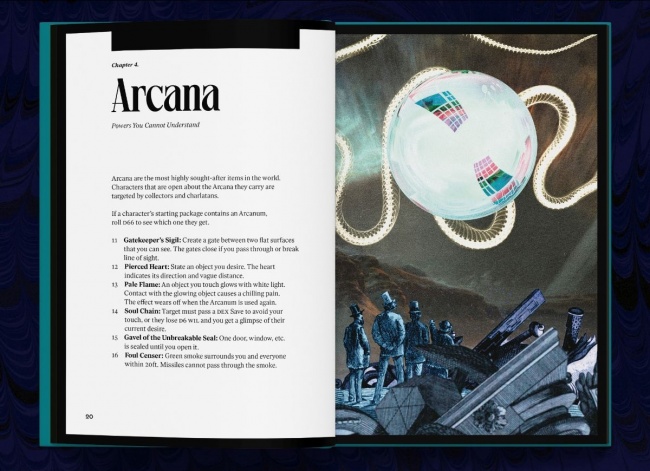 In addition to the rules, the full-color, hardcover book features descriptions of strange monsters and weird artifacts for the players to encounter, the "Return to the Iron Coral" adventure, details on the Fallen Marsh area and the port of Hopesend, and 26 pages of modules and tables to help the gamemaster develop the world, including charts for creating random weird creatures and other details. The book is illustrated by Johan Nohr (
MORK BORG
).
MSRP has not been announced.
Click Gallery below to see sample pages from the book.
Free League is raising funds to produce the game through a Kickstarter campaign that has attracted $35,244 in pledged support from 940 backers as of this writing (an average of $37.49 per backer), with 29 days remaining in the campaign. Backer fulfillment is scheduled for April 2022, with release into the trade to follow.
Earlier this year, Free League announced updated versions of The One Ring and Forbidden Lands role playing games (see "Free League Publishing Officially Announces the Return of "The One Ring' RPG" and "Free League Revisits 'Forbidden Lands RPG' with Two New Books").
The company's Alien role playing game claimed the #4 slot on ICv2's list of top role playing games last spring (see "Top 5 Roleplaying Games – Spring 2021").