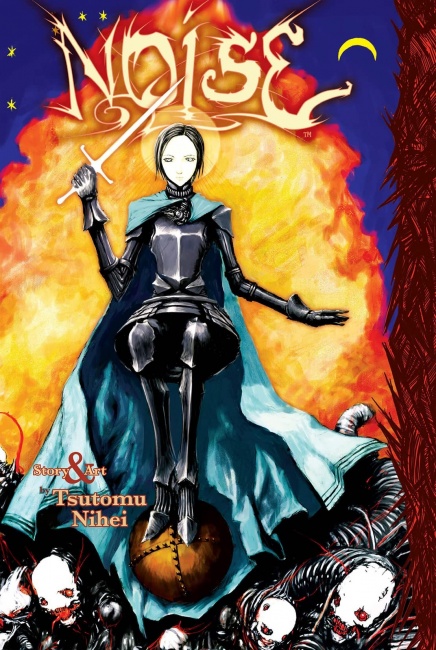 Kodansha Comics came to AnimeNYC last weekend with a bundle of new announcements for print manga debuting in Fall 2022.
The publisher is bringing an early Tsutomu Nihei manga back to print: Noise, the prequel to Blame, was first published in English by Tokyopop in 2007. While it's available digitally (via Kodansha), the print edition has been out of print for years and is being offered at $89.95 on Amazon, and at prices from $99.99 to $139.99 on eBay. Nihei is also the creator of Knights of Sidonia.
That was just one of the new editions and box sets Kodansha had to announce. Also in the works are Dissolving Classroom Collector's Edition, a new edition of Junji Ito's single-volume manga, and a box set of Wotakoi. Both Junji Ito's horror manga and Wotakoi were on our list of manga franchises that give retailers the best sales per title slot (see "Most Efficient Manga Series for Retailer Shelves"). Other new formats and editions:
The Ghost in the Shell: Fully Compiled Edition
Sweat and Soap box set
Rent-a-Girlfriend box set
Fire Force omnibus
Noragami omnibus
No. 6 omnibus
No Longer Human Complete Edition
Don't Toy With Me, Miss Nagatoro box set (vols. 1-6)
Kodansha's fantasy and isekai titles for Fall 2022 included Wistoria: Wand and Sword, a fantasy story about a talentless boy and his magical sword by writer Fujino Omori, creator of the Yen series Is It Wrong to Pick Up Girls in a Dungeon?, and artist Toshi Aoi. Other fantasy titles:
As a Reincarnated Aristocrat, I'll Use My Appraisal Skill to Rise in the World, by Jinei Mirai and Natsume Inoue
The Iceblade Sorcerer Shall Rule the World, by Nana Mikoshiba and Norihito Sasaki
Shangri-La Frontier, a virtual reality (VR) gaming fantasy by Katarina and Ryosuke Fuji
An Older Guy's VR First Love, by Tomoko Boryoku
I Was Reincarnated as the 7th Prince, So I'll Take My Time Perfecting My Magical Ability, by Kenkyo na Circle and Yosuke Kokuzawa
The other Fall 2022 titles announced at the panel were:
Avant-Garde Yumeko, by Blood on the Tracks creator Shuzo Oshimi, a story about a high-school girl who joins the art club because she wants to see a certain male body part in real life
Negi Haruba's Go, Go, Loser Rangers, an action-comedy sendup of the tokosatsu genre that's told from the villain's point of view. Haruba is also the creator of The Quintessential Quintuplets, a harem comedy that has been adapted into an anime and several games.
The horror anthology, PTSD Radio, by Masaaki Nakayama, a collection of stories about the demon who carries away the dead, with the recurring motif of hair figuring in each tale.
Shonen Note: Boy Soprano, a coming-of-age story about a boy who has to rethink his life when his voice begins to change. Manga-ka Yuhki Kamatani is also the creator of the critically acclaimed Our Dreams at Dusk: Shimanami Tasogare, published by Seven Seas.
Run Away With Me Girl, by Battan, a yuri romance about running away and returning to your first love.
Miss Miyazen Would Love to Get Closer to You, by Taka Aki, a high school rom-com about a cute girl and a bad boy.
In the Clear Moonlit Dusk, by Mika Yamamori, another high school romance, this one about a handsome, deep-voiced girl who is nicknamed "Prince" and an upper-classman who is also something of a prince.