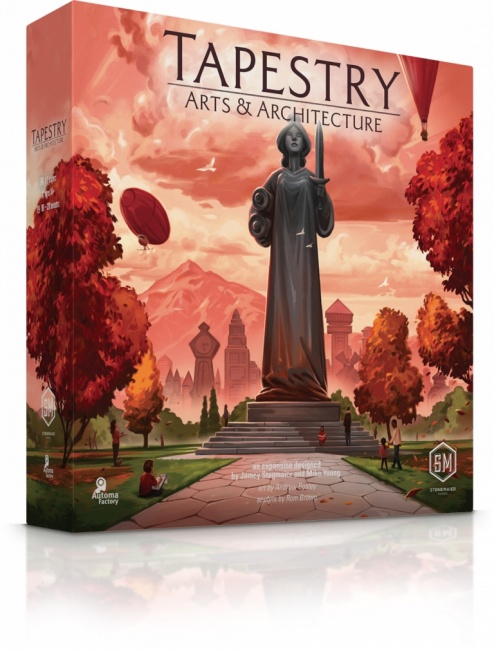 Stonemaier Games will launch a preorder for
Tapestry: Arts & Architecture
, a new expansion for
Tapestry
, on December 1.
In this second expansion for Tapestry, players can choose from new capital city mats to play on. It was also features a new advancement track with new cards and tiles. The expansion also adds more civilizations, tapestry cards, tech cards, and landmark miniatures/cards.
The game box comes with 2 rulebooks, an Arts track, 8 landmark miniatures, 5 new civilization mats, a science die (d20), 6 advanced capital city mats, 20 masterpiece cards, 20 inspiration tiles, 20 tapestry cards, 11 tech cards, 5 landmark cards, a reference guide, 25 player tokens, 3 landmark tokens (for Arts track), and Automa: 16 cards and 1 tile. The expansion supports one to five players, ages 14 and up, and plays in 90 to 120 minutes.
The core Tapestry game was released in 2019 (see "'Tapestry'").