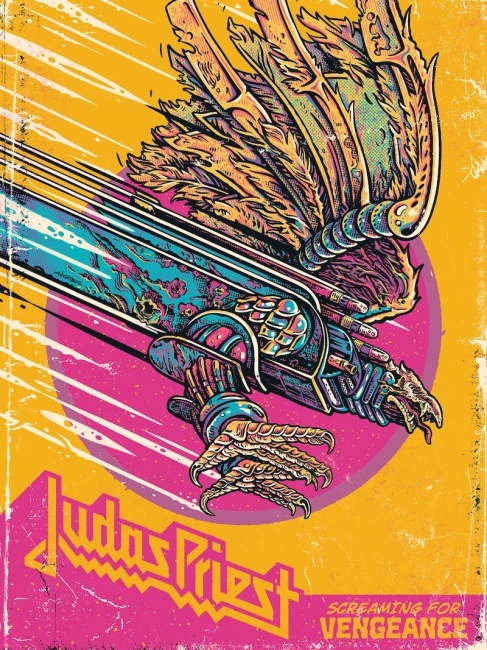 Z2 Comics is teaming up with the heavy metal band Judas Priest to produce an original sci-fi graphic novel,
Screaming for Vengeance,
inspired by the album of the same name. Released in July 1982,
Screaming for Vengeance
went double platinum and was the band's best selling album. The graphic novel's publication will coincide with the 40th anniversary of the album's release.
The graphic novel is set 500 years from now in a ring of extraterrestrial cities orbiting around a now-dead Planet Earth and tells the story of an engineer whose discovery threatens to disrupt the balance of power. He is banished to Earth and must decide whether to accept his exile or come back swinging. The co-creators of the project are writers Rantz Hoseley and Neil Kleid and artist Christopher Mitten.
The graphic novel will include an interview with Douglas Johnson, who designed the cover of the Screaming for Vengeance LP, in which he discusses how he developed the cover and the metallic bird (the Hellion) that graces it. Z2 has also designed a Hellion statue with eyes that light up with red LEDs; the statue will be included in some bundles.
Z2 is offering the graphic novel as a softcover graphic novel with an MSRP of $24.99, a hardcover with an MSRP of $34.99, and three limited-edition bundles: the Deluxe Edition, a slipcased hardcover that comes with a limited-edition vinyl Screaming for Vengeance LP and three art prints, with an MSRP of $99.99; a Super Deluxe Edition that includes everything in the Deluxe Edition plus the Hellion statue with an MSRP of $199.99; and the Platinum Edition, which includes a hand-signed slipcased hardcover, the LP, the prints, the statue, a jacket battle patch, and an enamel pin set, with an MSRP of $499.99. The Deluxe Edition is limited to 1,983 copies, the Super Deluxe Edition to 999 copies, and the Platinum Edition to 500 copies.
Z2 typically teams up with musicians to produce graphic novels, although they are expanding to other categories (see "Z2 Hires Talent Agent John Domingos to Help Expand Catalog"). They sell directly to retailers (see "Z2 Rolls Out Direct-to-Retailer Program") and distribute their books via Diamond, Lunar, and Simon & Schuster (see "Lunar Adds Z2 to Its Roster of Publishers").
Click Gallery for full size cover and interior art!