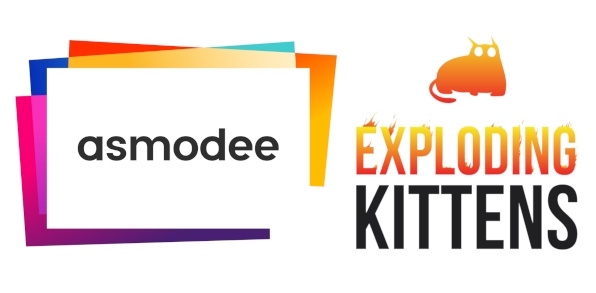 Asmodee Group has signed an agreement to make a strategic investment into Exploding Kittens, joining The Chernin Group and the founders as owners of the tabletop game company, the companies announced. The deal is expected to close before the end of the year; the size of the investment was not disclosed.
Exploding Kittens took in a $30 million investment from an affiliate of The Chernin Group in 2019 (see "
Exploding Kittens Raises $30 Million
"). The company was founded by game designer Elan Lee and webcomic
The Oatmeal
creator Matthew Inman.
Asmodee has been a non-exclusive distributor of the Exploding Kittens line in North America (along with ACD, Allance, and GTS). The two companies first began doing business in 2016, when Asmodee began distributing Exploding Kittens games in Europe. No word on whether Asmodee will now become the exclusive distributor of Exploding Kittens games in North America.
Exploding Kittens Head of Creative Development Zach Schiff-Abrams described the company's view of its distribution strategy to ICv2 earlier this year. "Domestically we work with ACD, Alliance, Asmodee North America and GTS; and then for the international markets about ten additional partners to get our games to every corner of the globe," he said. "While we tend to focus our slate on casual games for the mass market and traditionally the hobby market caters more towards midcore and hardcore gaming, those lines are continuing to blur as our business and the industry at large continues to grow. As such, going forward we are evaluating whether the strategy I outlined above is one we will continue with or whether we take a more direct approach to selling to the hobby market."
Exploding Kittens has been rapidly expanding its new game output, through internal development and acquisition; the company acquired
Happy Salmon
this year (see "
Exploding Kittens Acquires 'Happy Salmon'
").