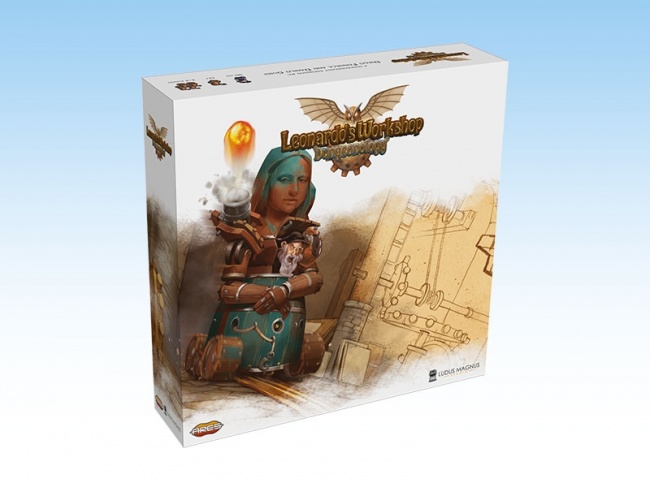 Ares Games is bringing
Dungeonology: Leonardo's Workshop
, by Ludus Magnus Studio, to U.S. retail in March 2022.
The first big expansion for Dungeonology - The Expedition (see "Ares Games, Ludus Magnus Join Forces") was Leonardo's Workshop, which is now being released in the U.S. as an English edition. In this expansion, the Scholars of the University of Rocca Civetta to meet Leonardo Da Vinci. He tests their prowess with a series of traps, logic games, and skill tests, and the player or players that comes out on top will learn his secrets. This expansion adds a new dungeon with 20 new areas as well as a new Scholar, a new type of Trick Cards, and Meccanica cards.
The game box comes with a rulebook, a Leonardo Boss model, a Mechalisa Boss model, 3 Boss cards, a Notes/Hold card, a Tancredi Scholar model, a Tancredi Scholar card, am Otto card and token, 3 Panic cards, 5 Crabbot models, 18 Mechanical Trick cards, 3 Fate Trick cards, an Intern card, 16 Zone tiles, 4 Mobile Zone tiles, 8 Da Vincian Clan cards, 6 Ranking tokens, 12 Passage tokens, and a reference card. This expansion requires the base game to play.