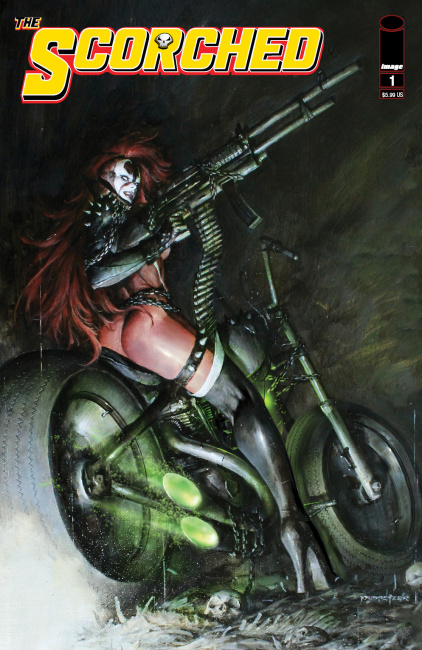 Image Comics announced today that
The Scorched
#1, which kicks off a new team series set in the Spawn universe, sold over 270,000 copies.
The Scorched, by writer Sean Lewis and artists Stephen Segovia and Paulo Sequeria, is a superhero team series with an initial cast of Reaper, Spawn, Redeemer, Gunslinger, Medieval Spawn, She-Spawn. The first issue went on sale on January 12 with covers by Puppeteer Lee, Brett Booth, Greg Capullo, Todd McFarlane, Don Aguillo, Marc Silvestri, and Ryan Stegman, as well as two incentive covers, a 1:50 Capullo sketch cover and a 1:250 incentive signed by McFarlane. The MSRP for the 48-page comic is $5.99.
Spawn creator Todd McFarlane announced his plans to expand the franchise at ComicsPro in February 2021 (see "Todd McFarlane Plans Comics Universe Built Around Spawn"), with four new titles set to debut in the ensuing year. Image has announced six-digit sales for the first issue of each series, with sales of "over 200,000" for Spawn's Universe #1 (see "Strong Sales for 'Spawn's Universe' #1") and almost half a million for King Spawn #1 (see "'King Spawn' #1 Preorders Come In at 497K"), and a first printing of 393,000 for Gunslinger Spawn #1 (see "McFarlane, BOOM! Announce New Six-Figure Launches"). These four first issues are among Image's top-selling comic books of the 21st century.