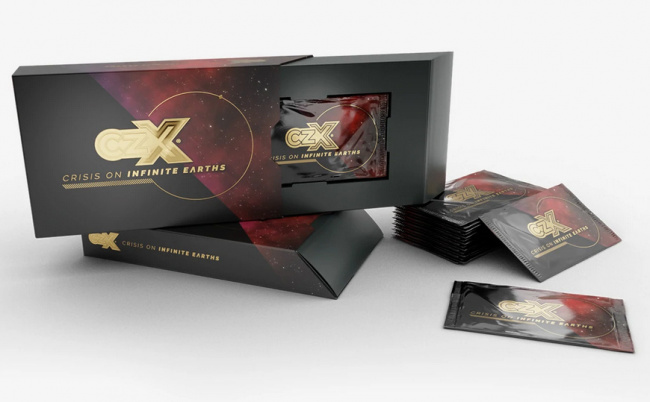 Cryptozoic Entertainment unveiled
CZX Crisis on Infinite Earths
, a super-premium trading card set, for release on January 19, 2022.
This CZX super-premium trading card release is based off of the Arrowverse's Crisis on Infinite Earths TV crossover event (see "Arrowverse's 'Crisis On Infinite Earths' Teaser"). The set offers up a 50-card base set that features ultra high-quality cards with thick, glossy, gold Deco Foil. There are also randomly inserted Autograph, Wardrobe, and Sketch cards. The single and dual on-card autographs include stars of the Arrowverse such as Stephen Amell as Oliver Queen/Green Arrow, Grant Gustin as The Flash/Barry Allen, Melissa Benoist as Supergirl/Kara Danvers, Brandon Routh as Superman/The Atom/Ray Palmer, Caity Lotz as White Canary/Sara Lance, Tom Welling as Clark Kent, Katie Cassidy as Black Canary/Laurel Lance, and others.
The single box hits summary is as follows: Autograph Cards (1:Box), Sketch Cards (1:Box), Wardrobe Cards (1:Box), CZX STR PWR Cards (1:Box), and Base Set Parallel Cards (1:Box). Cryptozoic Entertainment also recently announced Crisis Collection 1, for the DC Deck-Building Game series, for retail (see " 'Crisis Collection 1'").
Click on Gallery below for full-size images!