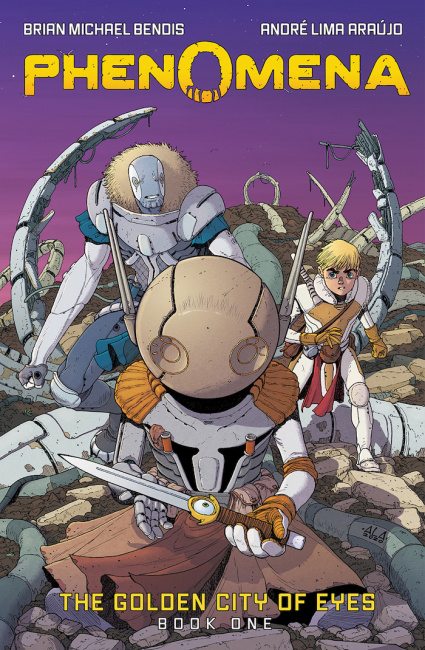 Abrams ComicArts announced today that they will publish a graphic novel trilogy by writer Brian Michael Bendis and artist Andre Lima Araujo.
Phenomena: The Golden City of Eyes
follows the adventures of three young survivors of some sort of phenomenon that has radically changed the Earth. Together they travel around the changed world and visit the Golden City of Eyes, a place of magic and mystery. The first volume of the series will be published on September 13 as a 144-page, black and white, dust-jacketed hardcover with an MSRP of $24.99.
"Andre and I have spent the last couple of years conjuring an entire brand-new world filled with inspiration, ideas, and imagination," Bendis said in a statement accompanying the announcement. "Inspired by the philosophies of our heroes and our hope for a better world, we introduce you to our exciting new heroes and their varied and dangerous world-changing quests."
Araujo added: "I drew and drew and drew, and then Brian wrote and wrote and wrote, and something that felt like magic happened."
Bendis is a five-time Eisner Award winner and the creator of Miles Morales, Naomi, and many other characters and stories; he recently signed an exclusive deal with Dark Horse to publish his creator-owned comics (see "Bendis Moving Creator-Owned Titles to Dark Horse"). Araujo is an architect and comics creator whose most recent title is A Righteous Thirst for Vengeance, co-created with Rick Remender; the first collected volume is due out from Image later this month.