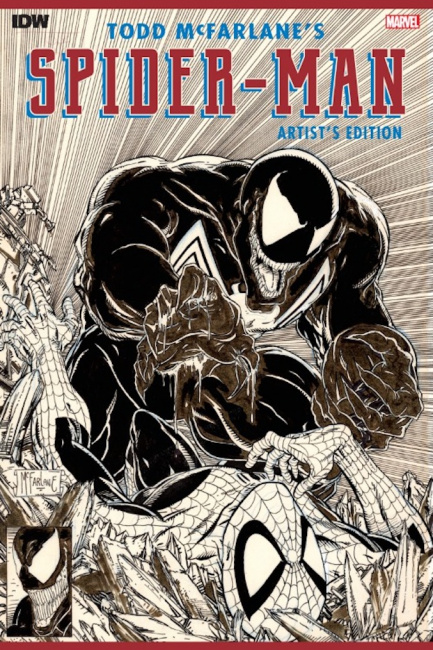 The newest addition to IDW Publishing's line of deluxe Artist's Editions will be
Todd McFarlane's Spider-Man Artist's Edition,
slated for release on September 21. The 192-page, black and white hardcover will have a trim size of 14" x 21" and an MSRP of $150.
While the book will contain no complete stories, it will include almost 100 pages of interior art from McFarlane's run on The Amazing Spider-Man (written by David Michelinie), nearly 60 interior pages from the spinoff Spider-Man (written and drawn by McFarlane), and 25 covers from those two titles and others, including Marvel Age and Marvel Tales. The pages will include the first full appearance by Venom, from The Amazing Spider-Man #299, as well as appearances by other classic characters, including Mary Jane, Hulk, Wolverine, the Green Goblin, Morbius, Hobgoblin, Sandman, the Vulture, and the Lizard.
Like the other Artist's Editions, Todd McFarlane's Spider-Man will present the inked, but not colored, pages, reproduced from scans of the original art, leaving the marginal notes and corrections visible.
McFarlane came on as the artist for The Amazing Spider-Man with issue #298, in 1988, and dramatically changed the visual style of that series. The Spider-Man series, for which he was the sole creator, debuted in 1990, and Spider-Man #1 sold 2.5 million copies. In an interview with ICv2, McFarlane described Spider-Man as "the launch of my fame and fortune, if you will" (see "ICv2 Interview: Todd McFarlane, Part 2").
Click Gallery for cover and interior pages!