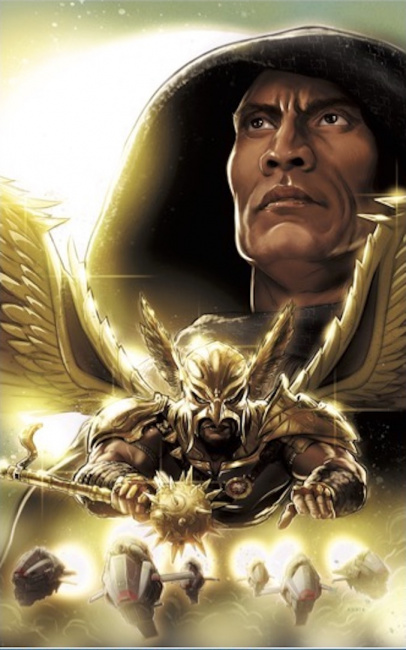 DC is laying the groundwork for the new Black Adam film with a series of one-shots, starting with
Black Adam – The Justice Society Files: Hawkman
#1. The main story in the 48-page issue, written by Cavan Scott with art by penciller Scot Eaton and inker Norm Rapmund, has Hawkman wrestling with his past and also dealing with a spirit who may be there to do him harm or bring an important warning. The backup story, by writer Bryan Q. Miller and artist Marco Santucci, moves between Teth-Adam and his son Hurut in ancient Kandaq and Adrianna Tomaz, a modern-day antiquities professor and art thief. The one-shot will go on sale on July 5 with a main cover by Kaare Andrews and a photo variant; the MSRP will be $5.99 for the main cover and $6.99 for the card stock variant.
The Beat reports that this is the first of a series of one-shots featuring the Justice Society members who will appear in the movie; future comics will put the spotlight on Dr. Fate, Atom Smasher, and Cyclone.
The Black Adam film will premiere on October 21 (see "Warner Bros. Changes Dates for Five DC Movies"), and DC is also launching a new Black Adam series by writer Christopher Priest and artist Rafa Sandoval (see "Black Adam Gets a Teammate in New Series").