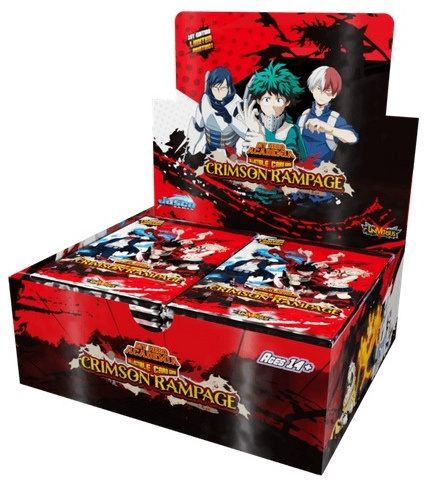 In addition to the
My Hero Academia CCG: Crimson Rampage
(see "
Next 'MHA CCG' Booster Set
") release in the U.S. and Canada over the next few weeks, Jasco has also added release dates for the first two sets in the UK, EU, and Australia, and expanded its competitive play program to the new countries, the company announced.
The dates for the
Crimson Rampage
set in the U.S. and Canada are April 29 for Prerelease events, May 6 for early release, and May 13 for full release. The first
My Hero Academia
set will be released in the UK, EU, and Australia on May 17, and
Crimson Rampage
on June 17.
Players in the new territories will have region-specific Provisional Showdowns and Regional License Exams and will be eligible to qualify for the Hero League Championship planned for Las Vegas, Nevada on December 17-18 with a $250,000 purse (see "
'MHA CCG' Championship Series
").