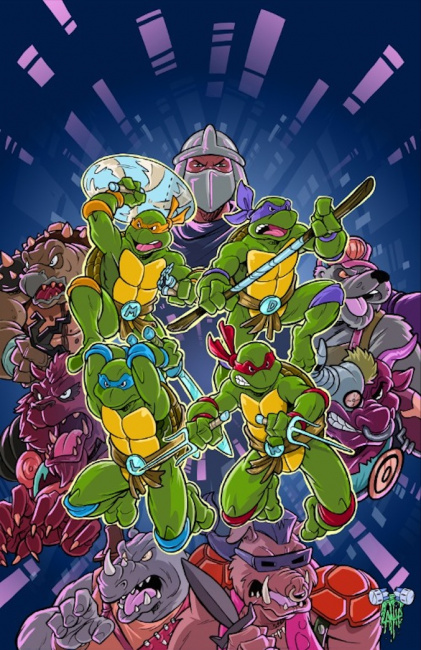 IDW Publishing's newest
Teenage Mutant Ninja Turtles
miniseries features new stories with a 1980s feel.
Teenage Mutant Ninja Turtles: Saturday Morning Adventures
is a four-issue miniseries by writer Erik Burnham and artist Tim Lattie that hews to the aesthetic of the animated series that launched in 1987. Each of the four monthly issues will feature a standalone story; plots include the Turtles getting trapped in a virtual reality simulator and one of General Krang's stone soldiers joining a hair metal band. The first issue will be release in September with Cover A by Lattie, Cover B by TMNT co-creator Kevin Eastman, Cover C by Tony Gregori, and a Retailer Incentive edition by Lattie.
"I'm no stranger to writing the TMNT for IDW, but this is different," Burnham said in a statement accompanying the announcement. "The version of the Turtles that exploded onto TV screens in 1987 was the version that I first met, and it brought me a lot of joy…and getting to play in this particular corner of the sandbox has built upon that joy! Humor, action, and plenty of high concepts were packed into each episode, and we're following that path."
IDW recently announced that writer Tom Waltz will write an eight-issue limited series,
Teenage Mutant Ninja Turtles: The Armageddon Game
(see "
Writer Tom Waltz Returns to TMNT
").