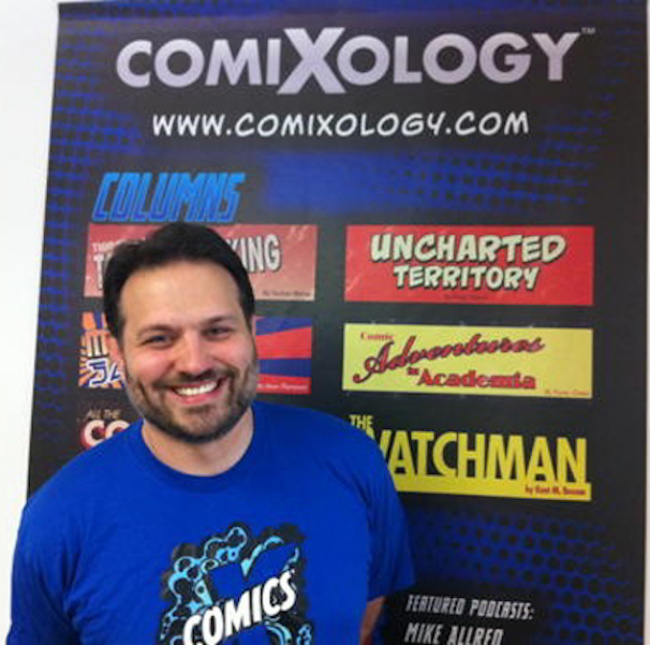 Chip Mosher announced that he is leaving his position as Head of Content for the digital comics platform ComiXology, which was acquired by Amazon in 2014 (see "
Amazon Acquiring ComiXology
"). Mosher joined the company in 2011 as VP of Public Relations, Marketing, and Business Development, coming from BOOM! Studios, where he was Marketing & Sales Director (see "
Chip Mosher Joins ComiXology
").
During his tenure at ComiXology, Mosher spearheaded the ComiXology Originals program (see "ComiXology Launches Exclusive Content"). In a Tweet announcing he was leaving, Mosher said "After 11 years, I've decided it's time for a change and this will be my last week at @comiXology. It's been an amazing decade+ for me & I'm grateful to have been able to be part of the company's growth," and he added, "In particular, it's been an honor pioneering the ComiXology Originals program."
On Twitter, ComiXology wished Mosher luck and announced that "With this change comes new opportunities for others, and we're pleased to share that Bryce Gold, who has played a key role in CO for the past year, will Lead the Comixology Originals program." Gold has been at ComiXology for over six years and is currently the Program Manager for comiXology Originals.
Meanwhile, former comiXology CEO David Steinberger dropped a hint as to what he is doing: "Have you ever gotten that promotion you always wanted and then realized: wait a minute, this isn't really what I wanted?" he Tweeted last week. "Well, that happened to me. So I wanted everyone to know that I've left Amazon to get back to my entrepreneurial roots. More soon!" Last March, Steinberger announced he was leaving his position as CEO of ComiXology to take on a new role with Amazon (see "ComiXology CEO Steinberger Out and Up at Amazon").