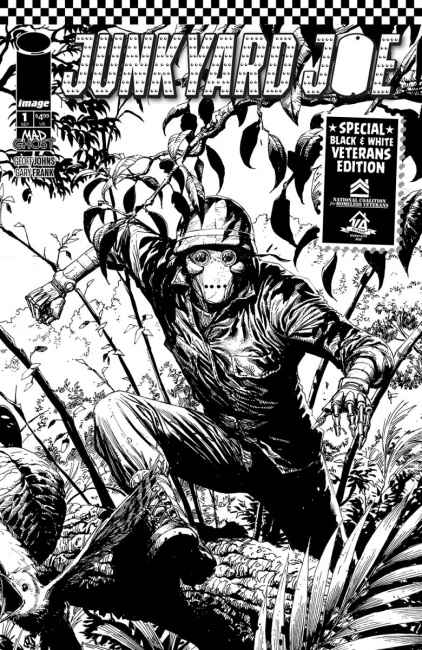 Writer Geoff Johns, artist Gary Frank, and colorist Brad Anderson, the creative team for DC's
Doomsday Clock
and the creator-owned
Geiger
(published by Image Comics) are reuniting for
Junkyard Joe,
a new series to be published by Image. Junkyard Joe first appeared in
Geiger
as a comic strip by cartoonist Muddy Davis about a robot soldier; this new series will go deeper into the story of both characters and will expand Johns' universe, The Unnamed.
The first issue will go on sale on October 5 with two sets of variant covers, five for Junkyard Joe #1 and five for Junkyard Joe #1: Special Black & White Veterans Edition. The covers for both editions will be by the same artists, but the special edition covers will be black and white, and proceeds from the black and white covers will go to the National Coalition for Homeless Veterans in honor of Johns' grandfather and to Veterans Aid in honor of both of Frank's grandparents; all three were World War II veterans.
For both comics, Cover A will be by Frank, Cover B by Robert Love, Cover C by Andrea Mutti, Cover D by Jerry Ordway, and Cover E by Frank. Anderson is also credited on all the covers except those by Mutti.
Johns is the former President and CCO of DC Comics (see "Johns Out as DC President, CCO") and now has his own production company, Mad Ghost Productions. He, Frank, and Anderson teamed up on Geiger (see "Geoff Johns and Gary Frank Will Publish 'Geiger' Through Image Comics"), which launched in 2021 and included a Junkyard Joe preview in the sixth and final issue.
Click Gallery for covers and preview!