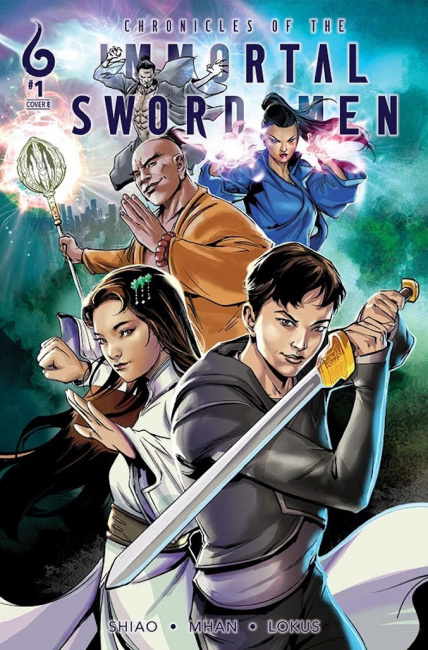 Los Angeles-based Wuxia publisher Immortal Studios has inked a deal with Dynamite Entertainment to distribute their Chinese martial arts/fantasy comics to the broader marketplace.
Founded by Peter Shaio, son of the famed wuxia novelist Shiao Yu, Immortal Studios is an independent studio that is working on building up a "storyverse" of wuxia comics by different teams of comics creators. The comics are crowdfunded on Kickstarter, and now Dynamite will distribute them to bookstores and the direct market.
Immortal's current offerings include
The Adept, by writers Tasha Huo, Charlie Stickney, Alison Norrington, and Peter Shiao, artist Yishan Li, and letterer Deron Bennett, the story of a young woman pursuing a long-lost martial art;
Chronicles of the Immortal Swordsman, by writer Peter Shiao, artists Pop Mhan and Jheremy Raapack, colorist Rex Lokus, and letterer Deron Bennett, about a young gamer and parkour enthusiast who is transported back in time and thrust into the middle of an ancient war;
Fa Sheng: Origins, created by Peter Shiao, written by Rylend Grant, illustrated by Dexter Wee, colored by Omi Remalante Jr., and lettered by Deron Bennett, the story of the great Shaolin master; Grant is a Ringo Award-winning writer and an ordained Soto Zen Buddhist monk;
Assassin G, by writer Jen Troy and artist He Tao, set in the early 1980s, a story of warring factions in the martial underworld, based on a novel by Shiao Yi. The original has been adapted multiple times for Chinese-language television, and this is the first time the story is being told as an English-language comic. The Kickstarter for this project will go live shortly.
"Kickstarter's platform allows us to engage with a very active reader base, and take their feedback into consideration, prior to publishing the official, final version of any given series," said Hank Kanalz, Immortal Studios' Head of Publishing (see "Former DC SVP Kanalz Takes Two New Posts"). "This publishing partnership with Dynamite allows us to expand into the direct market and bookstores. With their success with The Boys and so many top shelf licensed comics, Dynamite brings an expertise that will help in our mission to broaden the wuxia genre in comics to a wider audience."
Click Gallery for covers!