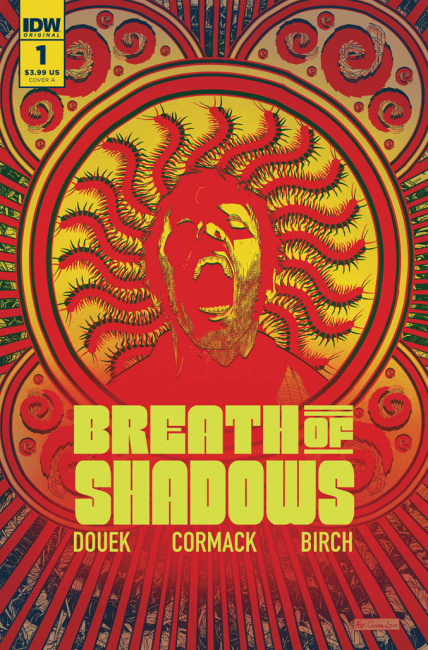 IDW Publishing will release
Breath of Shadows
, a new five-issue comic miniseries, into retail shops in February 2023.
This book was created by the the Bram Stoker Award-nominated duo of Rick Douek and Alex Cormack, with lettering by Justin Birch. The tale takes place in 1968, where rock star Jimmy Meadows has been weighted down by a debilitating heroin addiction. On the brink of losing everything, he heads to South America to receive an unorthodox treatment method that is hidden in the jungle. He and his entourage set out in search of the miracle cure, but instead find themselves in a nightmare of bloody chaos infested with unspeakable horrors.
"With Breath of Shadows, Alex and I wanted to continue exploring the dark themes we began with in Road of Bones and Sea of Sorrows," said Douek of the new book. "I absolutely love working with Alex; Breath of Shadows is the latest example of how our creative partnership has evolved over the years into something awesome, and I hope to be working with him for a long, long time."
Breath of Shadows #1 will have three covers: Cover A by Alex Cormack, Cover B by Bjorn Barends, and a retailer incentive cover by Eisner-winner Francesco Francavilla (see "24th Annual Eisner Award Winners"). This book will retail for $3.99.
Click on Gallery below for full-size images!