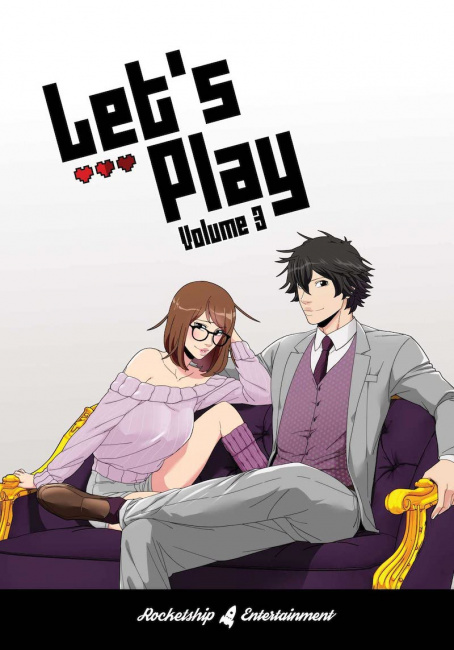 Leanne M. Krecic, the creator of the Eisner-nominated webtoon
Let's Play,
has announced that the series will not return for a fourth season on the Webtoon platform.
Let's Play
is one of the top comics on Webtoon, with 4.8 million subscribers.
Unlike the situation for other high profile Webtoon creators, the print editions of Krecic's Let's Play are not part of the Webtoon publishing initiative (see "Bobbi Chase on Webtoon Unscrolled"); the first three print volumes have been released in print by Rocketship Entertainment via Kickstarter, with increasing six-figure totals for each campaign (starting with over $230,000 for the first volume, and topping $330,000 for the third), with subsequent releases to trade. The third volume is due out on November 15 (see "Rocketship Entertainment Lines Up 17 Graphic Novels for 2022").
The first three seasons of the comic are currently still available on Webtoon. In an open letter posted on her website, Krecic, who uses the pseudonym Mongie, said
There have been ongoing difficulties for several years, most of which I can't discuss, nor is this the appropriate forum. But some concerns include Let's Play being excluded from marketing, despite promises to the contrary, and placing LP behind an age gate when there are series with far more controversial content that isn't restricted. My representation has voiced these concerns and others to the necessary individuals at WEBTOON, but the blame was reflected back at me for incredibly far-fetched reasons. These issues, among many others, have made me feel marginalized and that WEBTOON does not value Let's Play or me.
She also noted concerns expressed by other creators, including lower pay for creators in Latin America and an ad campaign that called webtoons a "side hustle" (for which the company subsequently apologized on Twitter), as well as "the ongoing lack of transparency and errors in accounting that I've experienced personally."
Krecic said that Let's Play will continue once she finds the right venue. The romantic comedy is being adapted into a television show by Allnighter (see "In the Media Age of Comics, We're About to Find Out How Much Is Too Much"),