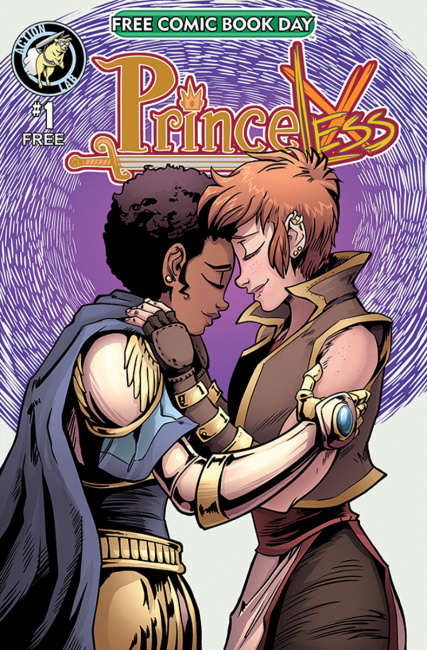 Writer Jeremy Whitley and artist Emily Martin have issued a statement denouncing Action Lab Entertainment's solicitation of a new
Princeless
comic for Free Comic Book Day and asking readers not to support it until the class action suit against the publisher is settled.
"To say that this is a surprise to us is perhaps an understatement," the two creators said in a statement to the media about the FCBD comic, which was announced last month:
The creators of Princeless (Jeremy and Emily) are currently in a protracted legal battle with Action Lab regarding a number of issues that we feel should have voided our publishing contract with Action Lab. As detailed in the original complaint, these issues range from non-payment of royalties, late payment of artists, late delivery of books to the distributor, and Action Lab completely shutting down business and payments for a large chunk of 2020 without informing us or other creators. Jeremy and Emily have currently stopped working on Princeless and have not received any request to approve or finalize comics pages for a Free Comic Book Day release, nor have they approved any new work to be published in a format such as this which would not offer royalties or recompense to the creative team.
Whitley and Martin also expressed concern that the comic was represented as the start of the tenth volume of the series. "Not only was this done without our approval," they said, "but the team has only finished the first issue of the volume and the implication that the rest of this volume is coming soon is misleading to retailers, consumers, and the distributor. Those books have not been drawn and Action Lab has not attempted to settle our current legal issues in any meaningful way."
They concluded by saying "Until this legal issue is settled, we would ask that Princeless fans not support this Free Comic Book Day book and that they make their voices heard to Action Lab, their retailers, and their distributors."
The Princeless comic was among the FCBD comics announced in November (see "Silver Sponsor Comics Announced for Free Comic Book Day 2023").
On January 31, 2022, a group of creators, including Whitley and Martin, filed a class action suit against Action Lab (see "Creators Sue Action Lab").