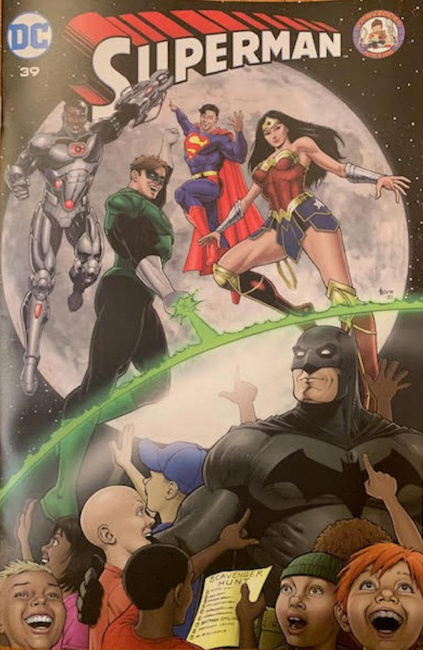 ComicBooks For Kids (CB4K), which distributes comics to children in hospitals and cancer centers, has teamed up with DC for a special edition of
Superman
#39 with two new covers, by Art Baltazar and Tom Nguyen, for distribution to children in hospitals and cancer centers in the U.S. and the U.K.
The comic, written by Peter Tomasi and Patrick Gleason with art by Barry Kitson, depicts Superman and the Justice League visiting the Metropolis children's cancer center and taking the children to the moon for a scavenger hunt. It was originally published in 2018.
CB4K noted its thanks to DC/Warner and also to the sponsors of the comic, mycomicshop.com in Texas, Atomic Comics in Las Vegas, and Funko. The comic will not be available for sale, but retailers who sponsored the ComicBooks For Kids! and ComicBooks for Troops events last year will get a small allocation for the second annual ComicBooks For Kids! weekend, scheduled for February 24-26 in the U.S. and U.K.
"We could not be more honored or appreciative to have this opportunity to connect DC to the kids we work with," said CB4K Founder and President Mark Weiss in a statement accompanying the announcement. "Presenting Superman, one of the most iconic comic book characters, to children in hospitals and cancer centers will certainly add smiles and help alleviate stress and anxiety."
In addition to donating comics for children and teens to hospital and cancer centers, CB4K has a sister organization, ComicBooks For Troops, that sends comics to the military (see "First ComicBooks for Troops Day Will Be Veteran Day").
For more information, visit the ComicBooks For Kids website.
Click Gallery below for covers!