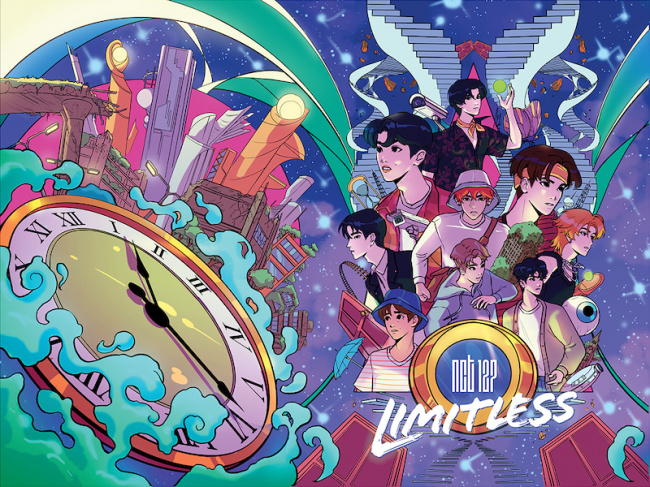 Z2 will publish its first K-Pop graphic novel,
NCT 127: Limitless,
starring the Seoul-based boy band NCT 127. While on tour, the nine members of the band begin to have mysterious dreams that overlap with reality, and the resolution to these dreams lies in overcoming their subconscious fears. Reiko Scott is co-writing the book, and the artists are Kayla Felty and Grace Lee, with Felty and colorist Megan Huang handling the covers. The graphic novel is scheduled for release in late summer 2023.
As is Z2's practice, the graphic novel is being released in a number of formats. There are 10 different covers, one featuring each member of the band plus one of the group as a whole, and the standard edition of the 84-page book is a 5" x 7.5" hardcover with one of the 10 covers and an MSRP of $21.99. The Deluxe Collectible Edition with slipcase includes an oversized (8.75" x 13") hardcover with a slipcase, prints of each of the nine band members, and a certificate of authenticity, for $99.99, and the Platinum Collectible Edition, at $299.99, includes a signed copy of the deluxe book, the art prints, and a limited-edition trading card; this edition is limited to 27 per band member.
NCT 127 was formed in 2016 by SM Entertainment as one of four sub-units of the boy band NCT; NCT 127 is based in Seoul, and the number in their name is the longitude of that city. The band's music is heavily influenced by hip hop and R&B. "Limitless" is the title of their second single, and their best known songs are "Cherry Bomb" and "Kick It."
Z2 is billing Limitless as the first officially licensed print graphic novel featuring a K-Pop group. But it won't be the only one: Yen Press has announced a print edition of the webtoon 7Fates: Chakho, starring the members of BTS, as part of their Ize Press imprint (see "Yen Doubles Down on Korean Webtoons").