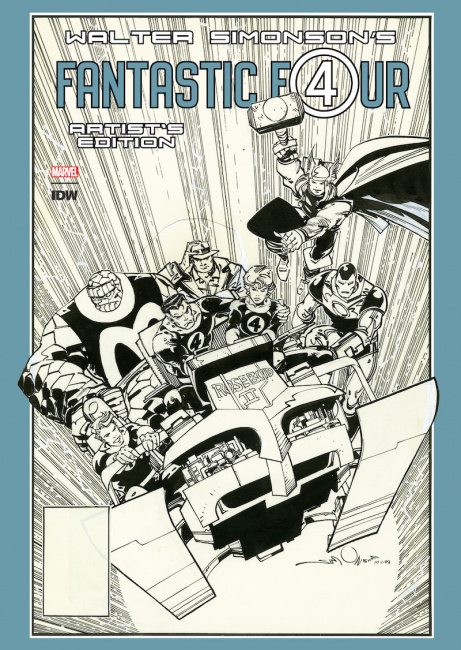 IDW Publishing and Marvel Comics have agreed to expand their agreement for IDW to publish Artist's and Artisan Editions spotlighting Marvel artists, with plans for two dozen new projects, and IDW has announced four new titles for fall release.
Artist's Editions are hardcovers that include the original art, scanned in color and at high resolution from the inked pages so corrections and changes are readily visible. The hardcover books are also published at the same size as the original art. Artisan Editions are smaller, less expensive collections of reproductions of original art published in paperback format.
The new announcements are
Walter Simonson's Fantastic Four Artist's Edition collects eight stories from Fantastic Four #337–341 and #353–354. The 205-page hardcover will be released on September 12, 2023, with an MSRP of $150.
Bill Sienkiewicz's Mutants and Moon Knights and Assassins Artisan Edition includes a selection of covers, pinups, and select pages from Moon Knight, The New Mutants, and Elektra: Assassin. The 172-page paperback will is slated for September 20, 2023, and will have an MSRP of $39.99.
John Romita's Amazing Spider-Man: The Daily Strips Artist's Edition is a collection of over 300 early Amazing Spider-Man newspaper strips by Stan Lee and Romita. The 176-page landscape-format hardcover will be available on October 3, 2023, with an MSRP of $150.
John Byrne's X-Men Artist's Edition looks like it's a reprint of the 2018 John Byrne's X-Men Artifact Edition hardcover, as both books contain the storylines "The Dark Phoenix Saga" and "Days of Future Past," and they have almost identical covers. The new Artist's Edition, a 160-page hardcover, will go on sale on November 7, 2023, with an MSRP of $150.
IDW has previously announced Kevin Nowlan's Marvel Heroes Artist's Edition and Michael Golden's Marvel Stories Artist's Edition (see "IDW Plans Artist's Editions with Man-Thing, Spider-Man and Hulk, More"), as well as Frank Miller's Daredevil Artist's Edition.
Click Gallery below for covers!