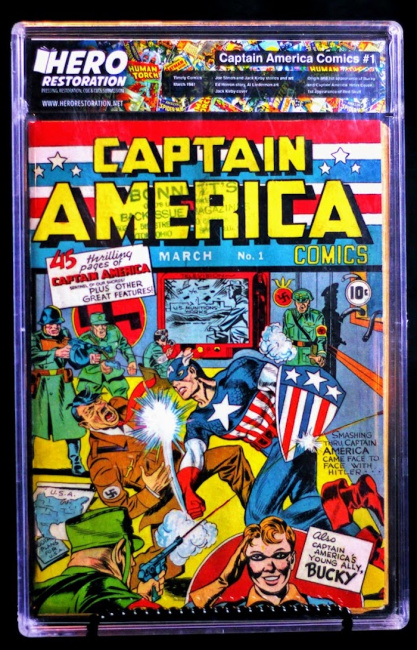 The burglars who broke into the Hall of Heroes Superhero Museum in Elkhart, Indiana, early on the morning of March 19 seemed to know what they were looking for: In four minutes they stole 50 comics, all Marvel titles, as well as items including a Captain America badge and two
Incredible Hulk
scripts signed by actor Lou Ferrigno.
Allan Stewart, Executive Director of the museum, told
WNDU News
that the burglars broke into eight display cases in just a few minutes. Among the stolen items: A copy of
Captain America
#1, from 1941, which Stewart said is one of only two that are on display in museums. The thieves also took a number of rare first issues and autographed comics and damaged the museum's statues and display cases. Stewart has set up a
GoFundMe
to pay for repairs and replace some of the items, and he has also appealed to the burglars to return the books, saying, "You've stolen history that's irreplaceable and that we share with the public and it needs to come back." The museum, a small nonprofit, could not afford to insure the rare comics, and they have moved the remaining valuable comics to a secure location.
Anyone with information about the robbery or the whereabouts of the stolen comics can call the Elkhart Police Department at 574-295-7070 or e-mail
tips@elkhartpolice.org
.
Here's a list of the stolen comics:
Captain America #1 in a Hero Restoration shell with a Bonnetts bookstore stamp
Captain America #37, signed by Allen Bellman
Captain America Sentinels of Liberty brass badge
Young Allies #1
Hulk #1 and #2
She-Hulk #1 and #2
Maestro Series #1 and #2
1979 Incredible Hulk script signed by Lou Ferrigno (two copies)
Hulk Magazine with Lou Ferrigno image signed by Ferrigno
X-Men #1 reprint signed by Stan Lee
X-Men #1, #2, #109, #121, and #122
Giant Sized X-Men #1 signed by Chris Claremont
Tales of Suspense #39, CGC graded 7.5
Tales of Suspense #50, #51, #52, #57, and #58
Tales to Astonish #35 and #36
Avengers #16, #17, #55, #56, #57 (signed by Roy Thomas), #58, #67, #68, #8, #9, #38, #39, #70, #71, #100, #101, #181, #182, #211, #212, #194, #195
Iron Man #128, #129, #174, #175
Superior Iron Man #1 Movie Covers, two books with different covers, Alex Ross cover signed.
Click Gallery below for photos of some of the stolen items.