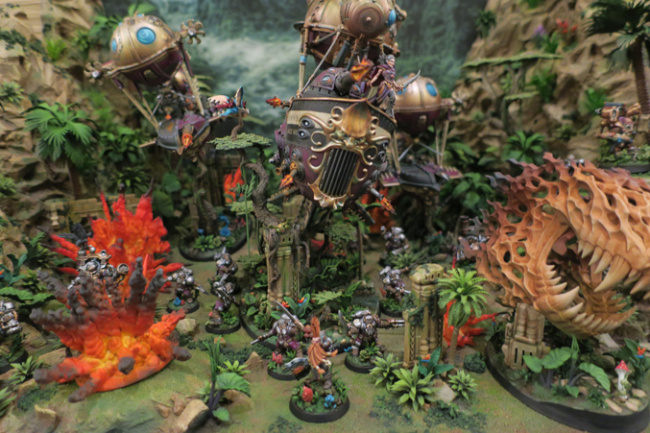 One of the main reasons ICv2 visits AdeptiCon on an annual basis, aside from getting the scoops from various manufacturers on new products, is to take a look at how true, engaged miniatures hobbyists set up their miniatures battlefields for play. As noted in last year's article (see "
Tabletop Setups
"), retailers who carry miniatures might find it useful to invest time and money into terrain tabletop setups for open gaming for a few reasons. The primary reason would be to encourage customers to play and stay in the store for a longer period of time, in hopes of making some extra sales. The secondary reason to add these types of tabletop setups would be simply to improve the store decor and atmosphere.
This year's AdeptiCon setups featured everything from simple battle mat terrain arrangements to more complicated vertical battlefields. The companies highlighted in 2023's assortment of terrain setups include Games Workshop, Catalyst Game Labs, Atomic Mass Games, Mantic Games, and more.
For more ICv2 Miniatures Week news and features,
click here
.
Click on Gallery below for full-size images!