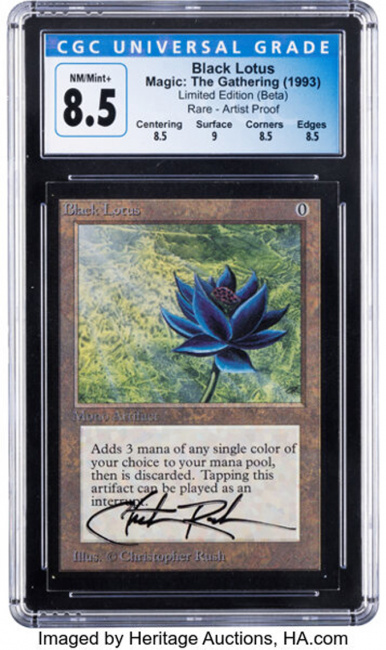 Heritage Auctions sold a CGC Graded 8.5
Magic: The Gathering
Black Lotus Artist Proof card signed by Christopher Rush for $615,000 at the recent March 24, 2023 to March 25, 2023 Jeff Ferreira Collection Featuring Christopher Rush Collectibles Trading Card Games Signature Auction.
This sale marks the highest amount paid for a Black Lotus card at auction with the runners up being a PSA Gem Mint 10 Black Lotus with a Christopher Rush-signed case that sold at a PWCC auction in March 2023 and the January 2021 sale of a similar Black Lotus for $510,000 (see "'Magic: The Gathering Alpha Edition' Bids Up Past $300,000 -- [Updated]!"). This card comes from The Jeff Ferreira Collection; Ferreira was a friend of Christopher Rush and his former agent.
Although the card is a lower grade than some of the other Black Lotus cards sold, it still garnered a higher price because of its status as a Beta artist proof. Artist proof cards are Magic cards printed with a white back that are sent to artists to show them what the card's art looks like when it is printed. The proofs are likely far more rare than either Alpha or Beta versions of the card as they were never truly released to the public via sealed product.
Click on Gallery below for full-size images!