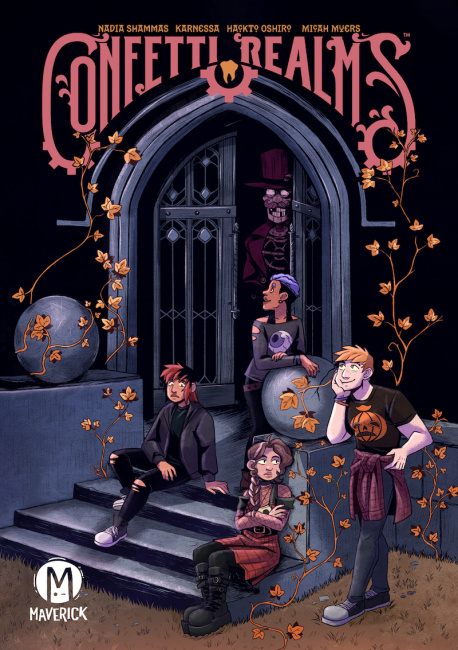 Maverick, the Young Adult imprint of Mad Cave Studios, has announced a new horror graphic novel,
Confetti Realms,
by writer Nadia Shammas (
Squire
), artist Karnessa, and colorist Hakto Oshiro. The graphic novel, which the publisher describes as "Tim Burton-esque," is set on Halloween night, when a quartet of teenagers have a graveyard encounter with a huge sentient puppet who sends them to a dimension called the Confetti Realms, where they must both deal with their friendship issues and collect teeth that are owed to the puppet. The book, which is rated for age 13+, will be published on October 31, 2023, with an MSRP of $14.99.
"The idea of
Confetti Realms
started with a Victorian Christmas Card," Shammas said in a statement accompanying the announcement. "I was really inspired by the festive yet strangely macabre animals in their finest clothes. When thinking about developing the energy of the book further, pairing with Karnessa influenced a lot of creative decisions. I've been a fan of Karnessa's work for a long time, they manage to balance comedy and horror so incredibly well, and their creature design work is just off the charts. I feel like we kept leaning into the absurdity of the world we had created, and it kept pushing us to go funnier and weirder. This book is probably the strangest and most joyous work I've done yet. It's a touch of
Over the Garden Wall
with emo teens, a quest for loose teeth, and big emotional stakes."
Shammas is the co-creator (with Sarah Alfageeh) of the YA graphic novel
Squire,
which won the 2022 Harvey Award for Best Children's or Young Adult Book. She is also a contributor to DC Comics' 2023 Pride anthology (see "
DC Pride Month
") and is writing a licensed comics series for Titan comics based on the game
Dead by Daylight
(see "
Titan Gets Dead by Daylight
").
Click Gallery below for preview!