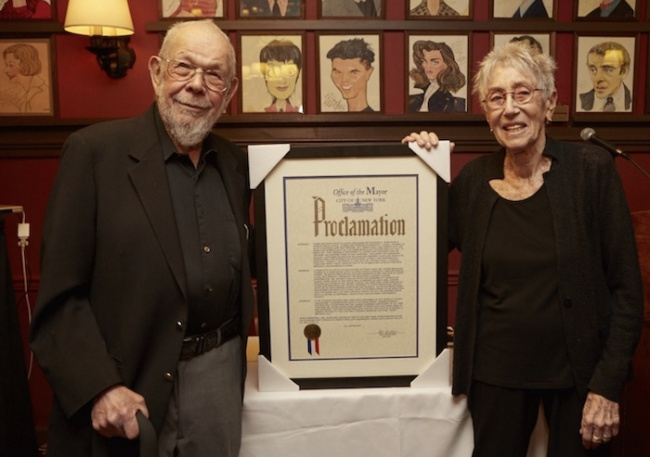 Al Jaffee, comics artist and creator of the long-running
MAD Magazine
Fold-In, has died at the age of 102.
Born in Savannah, Georgia, in 1921, Jaffee spent much of his early childhood shuttling between Savannah and his mother's hometown of Zarasai, Lithuania, until his father finally brought him back to the U.S. for good in 1933. Jaffee attended the High School of Music & Art in New York City, where his classmates included future MAD Magazine colleagues Will Elder and Harvey Kurtzman.
In 1941, Jaffee began taking his portfolio around to comics studios in New York. Will Eisner liked his story "Inferior Man," which featured a satirical anti-superhero, but since it was to run in Quality's Military Comics, he asked Jaffee to change the lead character from an accountant to a quartermaster in the army. Jaffee complied, and his first published work was a three-page Inferior Man story in Military Comics #7. That series ran through issue #13.
Looking for more work, Jaffee met with Stan Lee at Timely Comics, who handed him a script for "Squat Car Squad," a six-page story about bumbling policemen. The story Al returned was filled with pratfalls and featured the cartoonist himself leaning into a panel to yell at his characters, who threaten to go on strike. Lee loved it and ran it in Joker #2, published in 1942. Lee and Jaffee then co-created Silly Seal and Ziggy Pig, who ran for years in Krazy Comics. The characters were revived briefly in 2018 as part of Marvel's 80th anniversary (see "Ziggy Pig and Silly Seal Return").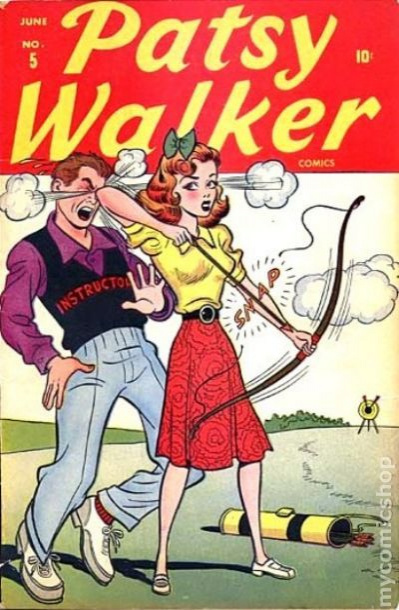 Jaffee served in the military during World War II and upon his return, in 1946, he went to work for Timely as an artist and writer, and later as the associate editor of Timely's teen and humor comics. When financial troubles hit the company, in 1949, the entire staff was let go, including Jaffee. However, Lee reached out to him just a few months later and asked him to draw the teen comic
Patsy Walker,
which he did for five years.
In 1955, when MAD editor Bill Gaines changed its format from a comic to a magazine and put Kurtzman in charge, Kurtzman reached out to his old classmate and began assigning him stories. Kurtzman left MAD a year later, and Jaffee followed him to work for his next two magazines, the short-lived Trump and Humbug. Jaffee went back to MAD in 1958, and he stayed there for the rest of his lengthy career.
It was the Fold-In that cemented Jaffee's place in the comics world. The feature appeared in almost every issue of MAD from 1964 until Jaffee retired in 2020, at the age of 99. The idea came to him while he was musing about how to parody the foldouts that were often included in the glossy magazines of the day. His first thought was to take it to a ridiculous extreme with a 12-foot foldout, but when he realized that was impractical, he hit on the idea of going in the opposite direction and designed a picture that could be folded by the reader to reveal another image, usually a sardonic twist on the first one. The first Fold-In was a wry spin on Elizabeth Taylor's affair with Richard Burton, and Jaffee intended it as a one-off, but his editors liked it so much they asked for more and it soon became a regular feature. Chronicle Books published a four-volume collection of Fold-Ins in 2011.
Another Jaffee creation, "Snappy Answers to Stupid Questions," also started out as a one-shot, but again, enthusiastic reaction led Jaffee to do several more for the magazine and then spin it out into eight books of original material.
In addition to MAD, Jaffee did other work, including Tall Tales, a syndicated newspaper comic with an unusual elongated vertical format. The comic was initially wordless, but Jaffee later added text and speech balloons at an editor's insistence. Abrams later collected the comics in Tall Tales, published in 2008. That book netted Jaffee the 2009 Harvey Award for Best Cartoonist as well as a Special Award for Humor in Comics. Jaffee also illustrated the 2010 biography Al Jaffee's Mad Life, by Mary-Lou Weisman. He was inducted into the Eisner Hall of Fame in 2013, and he won several National Cartoonists Society awards, including the Cartoonist of the Year in 2008.
In 2016, the Guinness Book of World Records officially named Jaffee as the world record holder for "Longest Career as a Comics Artist" (see "Al Jaffee Sets Record").