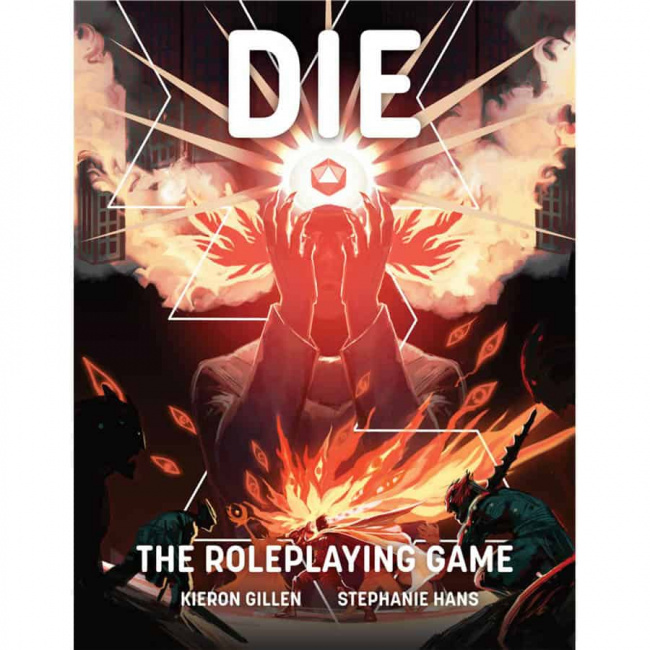 Rowan, Rook, and Decard will release
DIE: The Roleplaying Game
, a new dark fantasy world RPG written by Kieron Gillen with artwork by Stephanie Hans, into retail in June 2023.
DIE: The Roleplaying Game is based on a comic book of the same name; also created by Gillen and Hans. Gillen is a British comic book writer who has had runs on mainstay Marvel Comics superhero comics like Journey into Mystery, Uncanny X-Men, and Young Avengers. He is probably most noted for his work on Star Wars comics, where he co-created the Doctor Aphra character in Star Wars: Darth Vader #3 (2015). He also wrote the recent Warhammer 40,000 Marneus Calgar series for Marvel (see "'Warhammer 40,000' Comic").
The DIE comic series hit stands in 2018 via Image Comics (see "New Image Series Rolls the 'DIE'"), and has since been nominated for multiple Hugo Awards. This series is about a group of now adult friends who return to a fantasy world of horrors they escaped from as teenagers. The portal to this world was a cursed roleplaying game that they started playing years ago.
The new RPG runs on a similar premise where players take on the roles of authentically flawed people who get sucked into a fantasy world of horrors during a game session. This game features six character classes adapted from the comics, easy-to-learn dice mechanics, and a bestiary. It also comes with an intro comic and dozens of new art pieces illustrated by Stephanie Hans.
DIE: The Roleplaying Game will come as a 408-page full color hardcover that will retail for $60. It will also be released in a deluxe edition that has an alternate cover and case designed by Rian Hughes. This edition will retail for $95.