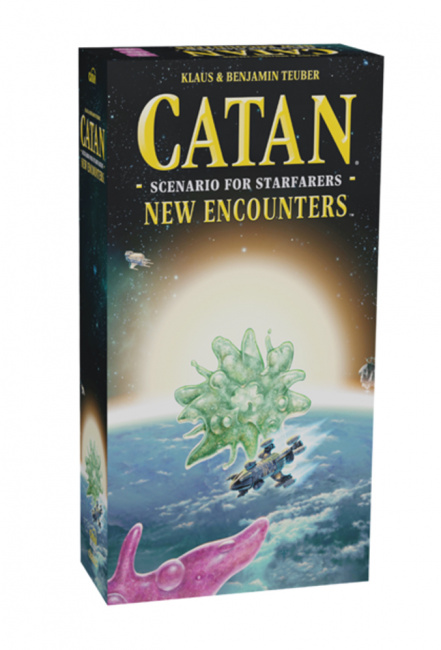 CATAN Studio announced
CATAN Starfarers: New Encounters,
an expansion, which is now up for preorder.
CATAN Starfarers: New Encounters offers up three new scenarios with unique rules for CATAN Starfarers. Players will explore the amoebas, defeat the pirate Hog Kahm, and find the long-lost people. The scenario includes 2 amoeba figures, 25 ship capsules, 4 research markers, 2 pirate bases,
an asteroid, an outpost of the Lost People, 4 combat dice, 4 cube markers, 10 reinforcement chips, 6 position markers, 7 number discs, 2 special markers, 2 marker arrows, 2 expansion markers, a research
board, 8 colony ship and mission ship tokens, 39 encounter cards, 12 overview cards, 10 research cards, 7 location cards, 4 friendship cards, and a rulebook.
This expansion requires CATAN Starfarers to play. It will retail for $59.99.
CATAN Studio also recently revealed CATAN: Soccer Fever and CATAN: Hawaii (see " Two New Scenarios").