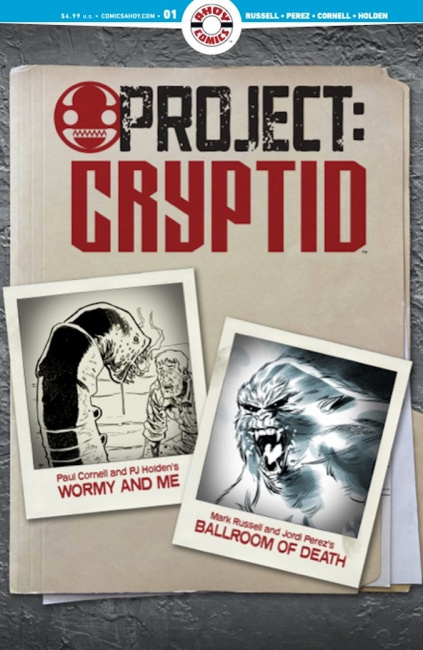 Ahoy Comics is launching a new comics and prose anthology series,
Project Cryptid,
that will look at the lighter side of cryptids, from yetis to chupacabras to the Loch Ness monster.
The series, which will launch on September 6, 2023, will feature work by writers Mark Russell, Paul Cornell, Alisa Kwitney, Alex Segura, Bryce Ingman, Paul Constant, Liana Kangas, Henry Barajas, AA Rubin, Joe Illidge, Melissa Olsen, Zander Cannon, Gene Ha, Hanna Bahedry, Matt Ligeti, and Stuart Moore and artists Jordi Perez, Madeline Seeley, PJ Holden, Mike Spicer, Mauricet, Steven Bryant, Peter Krause, Richard Pace, Jamal Igle, Ted and Ro, Lew Stringer, and Lane Lloyd, with more to come. The first issue will have a main cover by Rob Steen and a variant by Taki Soma.
"Everybody needs something to believe in, especially these days," said editor Sarah Litt in a statement accompanying the announcement. "We here at Ahoy believe that anything is possible — and possibly, everything is possible. From mothmen to chupacabras to Mongolian deathworms, the creatures in Project: Cryptid will test the limits of your faith in reality. You'll believe something is out there, although maybe not the truth."
"AHOY has assembled a murderers' row of writers and artists and parachuted them into a forest of weird," added writer Mark Russell. "This is the kind of comic I'd want to read as a fan."
Ahoy's recently announced series The Gimmick garnered advance praise from comics creators including Joe Casey and Jimmy Palmiotti (see "Upcoming Ahoy Comic Series").
Click Gallery below for covers!