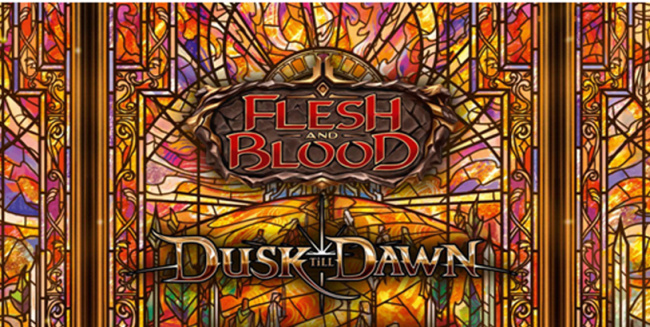 Legend Story Studios announced a
Flesh and Blood TCG
attendance record for their
Dusk Till Dawn
worldwide prereleases.
The prereleases, which drew over 17,000 attendees globally, happened over the course of July 7-9, 2023. These prereleases featured their new
Dusk Till Dawn
set, which contains some gorgeous angelic-themed Marvel rares (see "
Marvel Rares Spoiled!
"). James White, Legend Story Studios CEO, commented on the stellar prerelease attendance:
"With a lot of major releases in the TCG market at the moment, competition in the industry is the highest it's ever been," said White. "Even with this massive activity from TCG veterans and newcomers, it's amazing to see fans of
Flesh and Blood
turning out to celebrate Dusk till Dawn with one another. These players become a part of the War of the Monarch story themselves, and in doing so they have helped us set an all time record for any single weekend program Legend Story Studios has run. I can't thank our fans and players enough for their consistent support and love for our great game."
Dusk Till Dawn
is a 236-card follow up set to
Monarch
(see "
'Flesh and Blood: Monarch'
") that features a Fabled card, 8 Legendary cards, 56 Majestic cards, 77 Rare cards, 94 Commons, and 10 Marvel Rares. Retailers can learn more about running organized play events for this game by heading over the
Flesh and Blood TCG
website. Also, check out the Pick Hits section in
Internal Correspondence
#104 for a sneak peak at the next set.