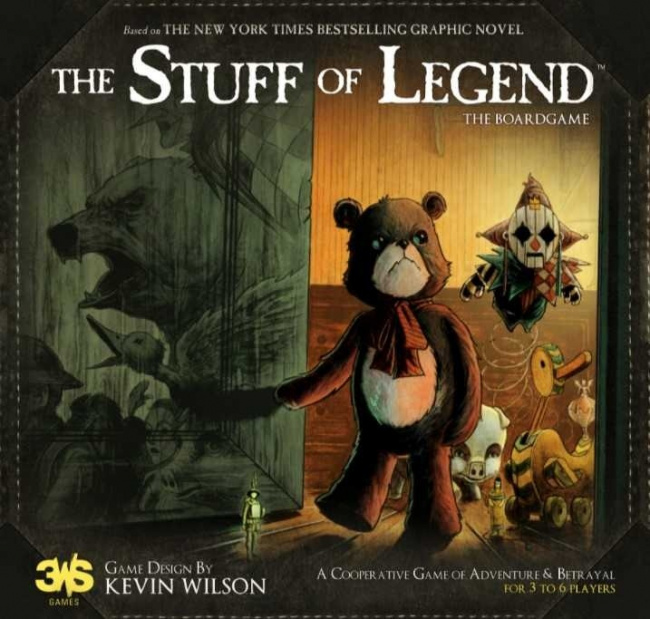 The Harvey Awards announced the nominations for 2023 awards in six different categories, and for the second year in a row, a board game is among the nominees:
The Stuff of Legend,
based on the graphic novel of the same name (see "
Th3rd World Studios Will Release 'The Stuff of Legend: The Boardgame'
"), has been nominated in the Best Adaptation from Comic Book/Graphic Novel category.
A number of the nominations in the comics categories have won 2023 Eisner Awards, including Ducks, Public Domain, Frizzy, Shuna's Journey, and Lore Olympus (see "Eisner Awards 2023").
The award winners will be announced at a ceremony at New York Comic Con in October. Creators and industry professionals who were approved for a Professional or Artist Alley badge at any ReedPop comic convention between 2016 and 2023 are automatically eligible to vote for the awards.
Book of the Year
Acting Class by Nick Drnaso (Drawn and Quarterly)
Ducks: Two Years in the Oil Sands by Kate Beaton (Drawn and Quarterly)
Follow Me Down: A Reckless Book by Ed Brubaker, Sean Phillips and Jacob Phillips (Image Comics)
Girl Juice by Benji Nate (Drawn and Quarterly)
It's Lonely at the Centre of the Earth by Zoe Thorogood (Image Comics)
Little Monsters Vol. 1 by Jeff Lemire & Dustin Nguyen (Image Comics)
The Man in the McIntosh Suit by Rina Ayuyang (Drawn and Quarterly)
Mimosa by Archie Bongiovanni (Abrams ComicArts/Surely)
Public Domain Vol. 1 by Chip Zdarsky (Image Comics)
Who Will Make The Pancakes by Megan Kelso (Fantagraphics)
Digital Book of the Year
Best Children's or Young Adult Book
Clementine Fox and the Great Island Adventure by Leigh Luna (Graphix/Scholastic)
Dungeons & Dragons: Dungeon Club: Roll Call by Molly Knox Ostertag and Xanthe Bouma (HarperAlley)
Frizzy by Claribel A. Ortega and Rose Bousamra (First Second)
Hungry Ghost by Victoria Ying (First Second)
In Limbo: A Graphic Memoir by Deb JJ Lee (First Second)
Northranger by Rey Terciero and Bre Indigo (HarperAlley)
Best Manga
Cat + Gamer by Wataru Nadatani, translated by Zack Davisson (Dark Horse Manga)
Chainsaw Man by Tatsuki Fujimoto, translated by Amanda Haley (VIZ Media)
Goodbye, Eri by Tatsuki Fujimoto, translated by Amanda Haley (VIZ Media)
Shuna's Journey by Hayao Miyazaki, translated by Alex Dudok de Wit (First Second)
Spy x Family by Tatsuya Endo, translated by Casey Loe (VIZ Media)
Best International Book
Alice on the Run: One Child's Journey Through the Rwandan Civil War by Gaspard Talmasse, translated by Nanette McGuinness (Life Drawn)
Always Never by Jordi Lafebre and Clemence Sapin, translated by Montana Kane (Dark Horse Books)
Ashes by Álvaro Ortiz, translated by Eva Ibarzabal (Top Shelf Productions)
Blacksad: They All Fall Down Part 1 by Juan Díaz Canales and Juanjo Guarnido, translated by Diana Schutz and Brandon Kander (Dark Horse Books)
The Extraordinary Part: Book One: Orsay's Hands by Florent Ruppert and Jérôme Mulot, translated by M.B. Valente (Fantagraphics)
Tiki: A Very Ruff Year by David Azencot, Fred Leclerc and Lucie Firou, translated by Nanette McGuinness (Life Drawn)
Best Adaptation from Comic Book/Graphic Novel
American Born Chinese (Disney+), based on American Born Chinese by Gene Luen Yang (First Second)
Drops of God (Apple TV+), based on Drops of God by Tadashi Agi and Shu Okimoto (Vertical)
Moon Knight (Disney+), based on Moon Knight (Marvel Comics)
Nimona (Netflix), directed by Nick Bruno and Troy Quane, based on Nimona by ND Stevenson (Quill Tree Books)
The Sandman (Netflix), based on The Sandman (DC Comics)
She-Hulk (Disney+) based on She-Hulk (Marvel Comics)
Spider-Man: Across the Spider-Verse, directed by Joaquim Dos Santos, Kemp Powers, and Justin K. Thompson, based on Spider-Man (Marvel Comics)
The Stuff of Legend - The Board Game, based on The Stuff of Legend by Mike Raicht Brian Smith and Charles Paul Wilson III (Th3rd World Studios)
Sweet Tooth Season 2 (Netflix) based on Sweet Tooth by Jeff Lemire (DC Comics)
Wednesday (Netflix), based on The Addams Family by Charles Addams