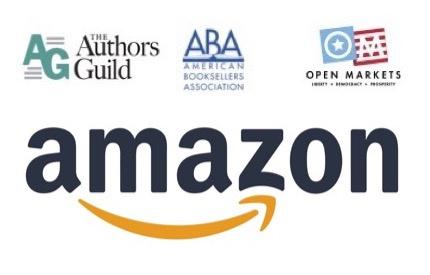 The American Booksellers Association, the Authors Guild, and the Open Markets Institute have sent an open letter urging the FTC to continue to pursue antitrust actions against Amazon.
"Today the free exchange of ideas is impeded and warped by opaque algorithms and sales practices controlled by Amazon and premised on which publisher and/or author is willing and able to pay the highest extortionary tax to get their books promoted on Amazon's website," said the
letter
, which was addressed to Lina Khan, Chair of the Federal Trade Commission, and Jonathan Kanter, Assistant Attorney General in the Department of Justice Antitrust Division.
The letter pointed to several cases where Amazon used its power as the largest book retailer, and therefore the largest wholesale buyer, to force publishers, including Macmillan (see "
E-Book Smackdown
") and Hachette (see "
Marvel, Yen Caught in Amazon-Hachette Crossfire
"), to comply with its terms.
Amazon continues to use "strongarm tactics" to force publishers to agree to its "onerous contract terms and conditions," including extra fees and penalties for those who promote competing platforms, the letter alleges, adding that this also hurts creators, as they earn lower royalties on books that are deeply discounted. Because the number of other bookstores has plummeted, the letter adds, "Amazon has an oversized power to control what readers see when browsing for books."
The letter concludes by pointing to the growing trend toward book censorship and argues that "It is only through a diversity of authors, publishers, editors, agents, and booksellers that we as a society can ensure that essential stories are published and are available to every reader. It is imperative that every book and every author can be found and read without interference from powerful companies designed to profit through the monopolization of control over the market and the manipulation of the reading public."
The
New York Times
reported on August 7 that the FTC was scheduled to meet with Amazon this week and speculated that this was the company's final chance to argue its case before the lawsuit begins. In a separate
letter
to the FTC, ABA CEO Allison Hill cautioned against ending the investigation or the lawsuit. "It would not be surprising if Amazon used this meeting as a last-ditch attempt to swing some deal that
appears
to punish the online giant, but in the long run, does nothing to curb Amazon's anticompetitive behavior," she wrote. "We firmly believe that the only solution to stop the Amazon monopoly is to break the company up."