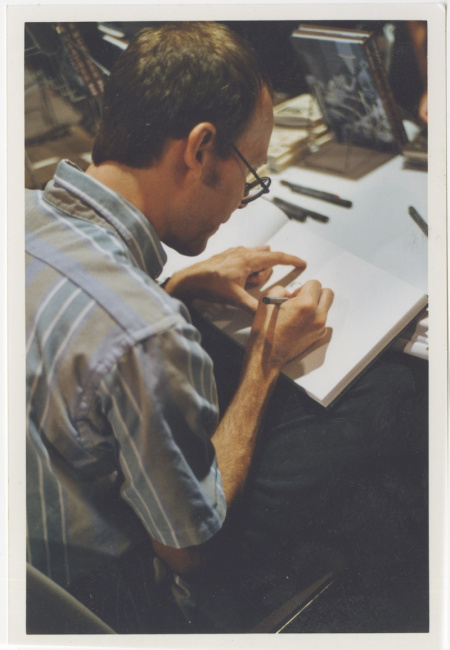 Joe Matt, creator of the confessional comic series
Peepshow,
died on September 18, 2023. Fellow creator MariNaomi, a friend since 2014, posted on her
Patreon
that he died at his drawing board, presumably of a heart attack.
Matt was born in 1963 in Landsdale, PA, a suburb of Philadelphia, and started drawing at about age 5. His mother encouraged his artistic interests, and he cited the comic strips
Peanuts
and
Li'l Abner
as his earliest influences. After working at a burger chain and a broom factory, he decided to eschew "normal" life and therefore, as he wrote in an autobiographical letter to MariNaomi's students (reposted on her Patreon), "I wanted no part of what was deemed 'a normal life.' I renounced materialism in all forms—except for books, which I consider something altogether different—and to this day, at age 49, I'm still the same. I've never owned a car, cell-phone, computer, credit card, you name it."
He majored in illustration at the Philadelphia College of Art and after graduation, tried to establish a career in magazine illustration in New York. He began working at Fat Jack's Comicrypt, a Philadelphia comic shop, and started thinking about his future. As he wrote to MariNaomi's students,
If you're lost, career-wise, and haven't a clue what to do wit your life—I think it's crucial to metaphorically "sit perfectly still and do absolutely nothing" for as long as possible. Jobs, friends--just about anything could be considered a distraction. But, if left to ones own devices (like I was) I think eventually one begins to hear their calling. Passions, interests--these things all lead you to it. And for me, it was just doodling in my sketchbook and eventually making autobiographical vignettes. You can't go looking for money or success--in fact, you have to act as if you already have those things and still don't know what to do with yourself--and then it'll come to you. At least that's how it happened for me.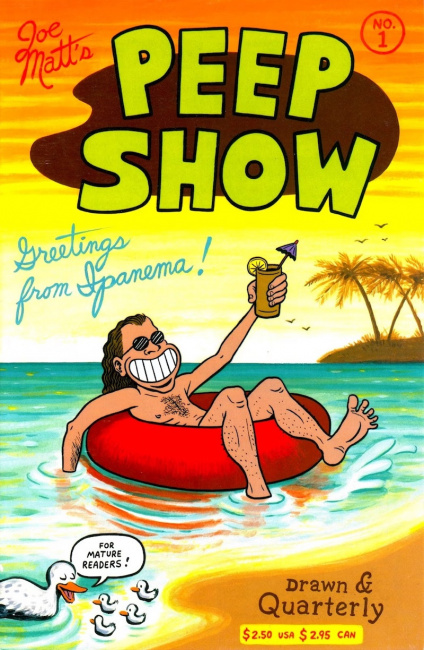 Matt began drawing
Peepshow
in 1987, as a series of one-page strips, and they were collected as
Peepshow: The Cartoon Diary of Joe Matt,
published by Kitchen Sink Press in 1992 and republished by Drawn & Quarterly in 1987. From 1992 to 2006, he published
Peepshow
as 14 single issues that were later collected by Drawn and Quarterly as
The Poor Bastard, Fair Weather,
and
Spent. Peepshow
was a confessional comic in the vein of Matt's heroes, Robert Crumb, Harvey Pekar, and Art Spiegelman, but characterized by both Matt's openness about his emotions and flaws and his attention to the craft of cartooning. He also self-published a collaborative work,
Joe Matt's "Jam" Sketchbook,
in 1988 that included collaborations with Will Eisner, James Kochalka, Dave Sim, Seth, Chester Brown, and others.
Peepshow
#1 was nominated for the Eisner Award for Best Single Issue in 1993, and over the years Matt was also nominated for a number of Harvey Awards. The comic also gained praise from fellow cartoonists Matt Groening and Robert Crumb, as well as musician Rivers Cuomo of Weezer, whose 1997 interview with Matt is preserved on
Weezerpedia
.
In 2004,
Futurama
producer David X. Cohen began developing a series based on
Peepshow
for HBO (see "
HBO Developing Joe Matt's 'The Poor Bastard'
"), but the series never materialized.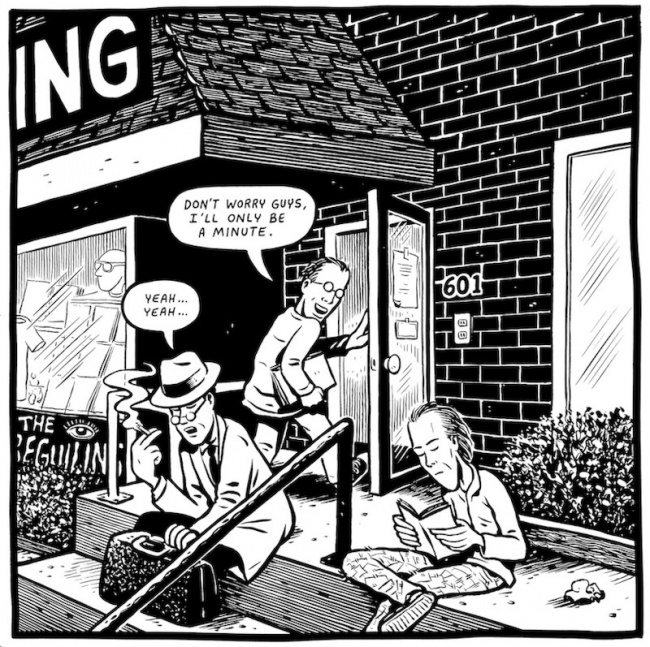 Matt moved to Canada in 1988 and lived there till 2002; during that time he became friends with Brown and Seth, and the three frequently appear in each other's comics. He later moved to Los Angeles, which is where he died. Although his last work was published in 2007, Matt apparently was working on something new; he told MariNaomi's students that his next book would be about the reasons for his move to Los Angeles.
In addition to his own work, Matt was a colorist for Matt Wagner, whom he met when they were both students at the Philadelphia College of Art. His work with Wagner included colors for the end of
Mage
and much of
Grendel ,
including the Batman/Grendel crossover.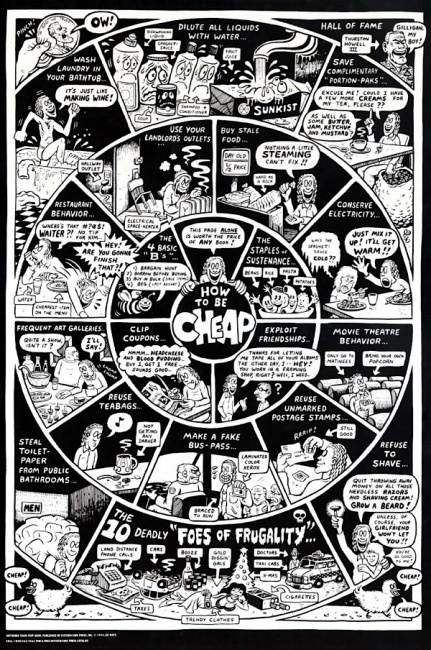 Despite his pledge of nonmaterialism, and his legendary cheapness, Matt was a collector of comic strips, a habit that began when he clipped out a Li'l Abner comic when he was nine years old. In a 2007 interview with the
New York Times
, he talked about his collection of Frank King's
Gasoline Alley
strips, on which he estimated he had spent $15,000. Many of them were included in Drawn & Quarterly's multivolume collection of the comic,
Walt & Skeezix.
In a
Twitter
thread announcing Matt's death,
Grendel
creator Matt Wagner wrote, "Anyone who knew Joe knew that, yes, he was often as frustratingly stubborn and neurotic as he portrayed himself in those pages...but he was also charming, funny, insightful and loyal to the few friends he deemed worth the effort."
Indeed, as the news of Matt's death spread, friends and fellow creators took to social media to offer tributes to both his talent and his friendship. Matt had, among other things, been a cat-sitter for a cat named Seymour, and Seymour's owner, Mike Hickey, posted his own remembrance on
Facebook
, saying, "I'm heartbroken by the loss of my friend Joe Matt. One of the kindest, most uniquely hilarious people I've known. He had a ONE OF A KIND personality and worldview… Joe had an almost childlike enthusiasm for the things he cared about, and I really appreciated that about him. A rare trait."