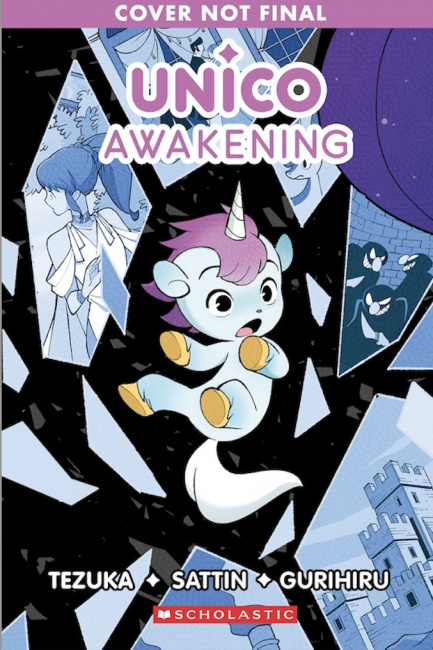 Scholastic's Graphix imprint currently dominates the children's graphic novel market, and now it is venturing into new territory with the announcement of its first manga series,
Unico: Awakening,
adapted from Osamu Tezuka classic
Unico.
Like the original,
Unico: Awakening
will be published in color and will read from left to right. The four-volume series, along with a handbook and an activity book, were created by writer Samuel Sattin and the art team Gurihiru, along with Tezuka Productions and Octas, Inc. The first volume will be released on August 6, 2024.
Unico: Awakening,
the story of a young unicorn with a positive attitude, was originally crowdfunded on Kickstarter in 2022, in a campaign that raised almost $180,000 and met its original goal within 24 hours.
Tezuka's original
Unico
was serialized in Japan in 1976-79 and later collected into two volumes. The manga appeared in English in 2013 thanks to a Kickstarter by Digital Manga Publishing, and it has also been adapted into several anime films (see "
'Unico' in 2012
").
With the surge in popularity of manga, demand has grown for titles that are suitable for children. The first volume of Kodansha Comics'
Miraculous: Tales of Ladybug and Cat Noir
recently debuted on BookScan's graphic novel best-seller list (see "
August 2023 Circana BookScan
").
Click Gallery below for artwork!