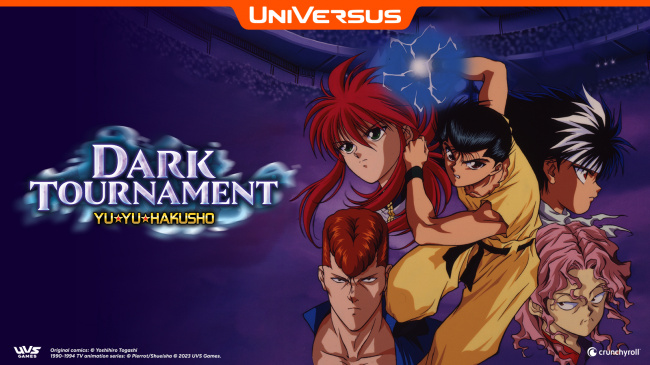 UVS Games announced the return of
Yu Yu Hakusho CCG
to the
UniVersus CCG
system.
The
Yu Yu Hakusho CCG
first rolled out to market with Score in 2003 (see "
Score Plans Two-Prong Push for Yu-Yu CCG
"), and headed to Jasco Games (now UVS Games) in 2019 (see "
'UFS: Yu Yu Hakusho'
"). Now, after a brief break in production due to the COVID-19 pandemic,
Yu Yu Hakusho CCG
is coming back with the
Dark Tournament
expansion.
Dark Tournament
was the second set published in the original Score run of the game (see "
Free Tournament Kits
"), and was very popular upon its initial release. The UVS version of the expansion will features fan favorite reprints and will only be available at FLGS, which can sign up for special prerelease events for the set.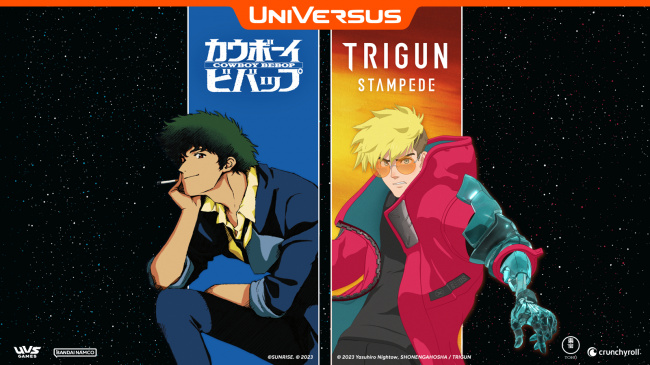 UVS Games also announced the release dates of their
Challenger Series: Cowboy Bebop
and
Challenger Series
:
Trigun Stampede
, which will be January 19, 2024. The
Cowboy Bebop
deck will feature Spike, Bounty Hunter, and Faye, Queen of Hearts. The
Trigun Stampede
deck will have characters such as Vash The Stampede and Nicholas D. Wolfwood.
Additionally, the Hero League Championship, for
My Hero Academia CCG
, will be held at the Sheraton Orlando Lake Buena Vista Resort in Orlando, Florida on the weekend of February 2-4, 2024.
My Hero Academia CCG: Jet Burn will hit stores on November 10, 2023 (see "
'My Hero Academia CCG: Jet Burn' Release Date
").
Click on Gallery below for full-size images!