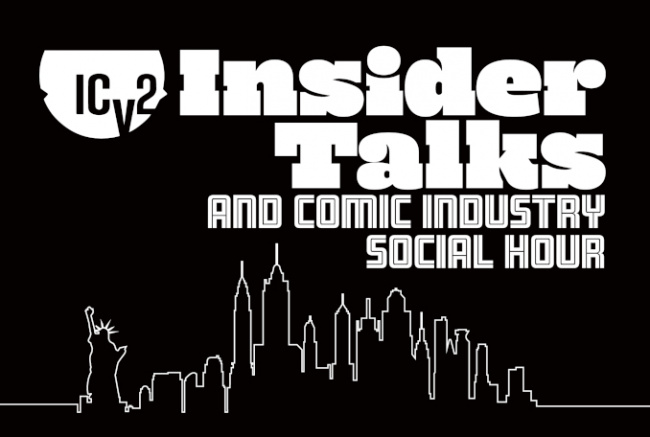 An ICv2 Release
. ICv2 CEO Milton Griepp will present the ICv2 White Paper, "Comics in North America – the Direct Market at 50," at the ICv2 Insider Talks: Direct Market Summit, and Comic Industry Social Hour at New York Comic Con on Thursday, October 12. In the presentation, one of three powerful sessions in a quick-moving format, Griepp will provide an overview of the North American comics and graphic novel markets, including its overall size and analysis by channel and format, a drill-down into the graphic novel trends across channels, and a closer look at the Direct Market. The presentation will wrap up with a look ahead for the Direct Market channel, with an examination of where the current and long-term trends lead.
A second session, "How We Got here: Building the Comic Store Channel," focuses on the history of the Direct Market, with a discussion between Griepp, former Marvel Comics Editor-in-Chief Jim Shooter, and longtime DC Comics executive Paul Levitz, all of whom were active int he direct market in the 70s and 80s, on key inflection points in the growth of the Direct Market, including the dynamics inside the companies that were driving change, the key steps in the pivot from newsstands to comic stores, the Direct Market impact on formats, content, and creators rights, and more.
And the third session, "The Future of the Direct Market: Where Do We Go From Here," brings together a panel of thought leaders moderated by ICv2's Rob Salkowitz to discuss the path forward for the growth of the medium and art form (see Salkowtiz's column, "
Tracking the Future of the Direct Market
," and our panel overview, "
Insider Talks Tackle Future
" for more on this session.
The ICv2 Insider Talks: Direct Market Summit, and Comic Industry Social Hour, a three-hour event, is annually a great opportunity to meet, mingle, and network with other leaders of the comics and graphic novel industry. It will kick off with the Comic Industry Social Hour, co-hosted with ComicsPro, at 2:30, followed by the Insider Talks from 3:30 to 5:30, Thursday afternoon, October 12, in the dramatic River Pavilion at the Javits Convention Center.
The ICv2 Insider Talks: Direct Market Summit and Comic Industry Social Hour are open to business and creative professionals, and press attending New York Comic Con. Contact
Conferences@ICv2.com
for a free invitation.

For more information, see the ICv2 Insider Talks page on
ICv2.com
.
This event is made possible by the support of our sponsors.
Co-Sponsored by GlobalComix and Whatnot.
Sponsored by Mad Cave.
Supporting Sponsor: Diamond Comic Distributors