With a wide range of genres and styles available, graphic novels make great gifts for kids of any age, from toddlers to teens. Here's a look at some recent releases that would make great holiday gifts for readers under 16.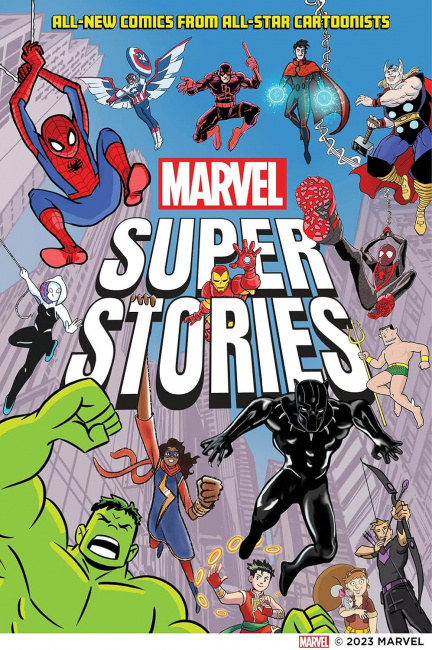 Abrams has a nice selection of Marvel superhero stories for middle-grade readers and their younger siblings.
Marvel Super Stories
is an anthology of short comics by a stellar list of children's graphic novel creators (see "
Marvel, Abrams Team Up for Middle-Grade Superhero Anthology
"), published as a handsome jacketed hardcover. (Ages 8-12; $16.99).
Spider-Man: Animals Assemble,
by Mike Maihack (creator of
Cleopatra in Space
) is the first of what looks like a series of Spidey graphic novels for young middle-grade readers (Ages 6-9; $12.99). And because it's never too early to start learning your Marvel superheroes, check out the My Mighty Marvel First Book board books, including the most recent one,
The Avengers,
with art by George Pérez. (Preschool and up; $12.99).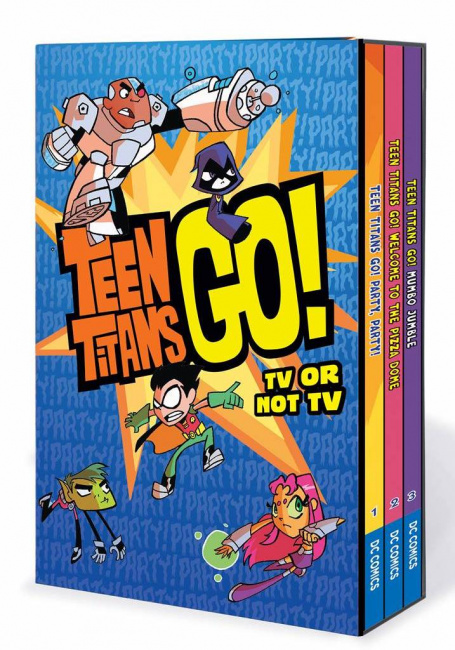 DC is ready for the holidays with two Teen Titans Go! box sets, each with three graphic novels:
Teen Titans Go! Box Set Vol. 1: TV or Not TV
collects
Party, Party!, Welcome to the Pizza Dome,
and
Mumbo Jumble,
and
Teen Titans Go! Box Set Vol 2: The Hungry Games
includes
Smells Like Teen Titans Spirit, Falling Stars, and Weirder Things.
(Ages 8-12; $29.99). DC's newest middle-grade original graphic novel is
Diana and the Hero's Journey,
by Grace Ellis and Penelope Rivera Gaylord, a story of Wonder Woman's childhood hijinks. (Ages 8-12; $12.99)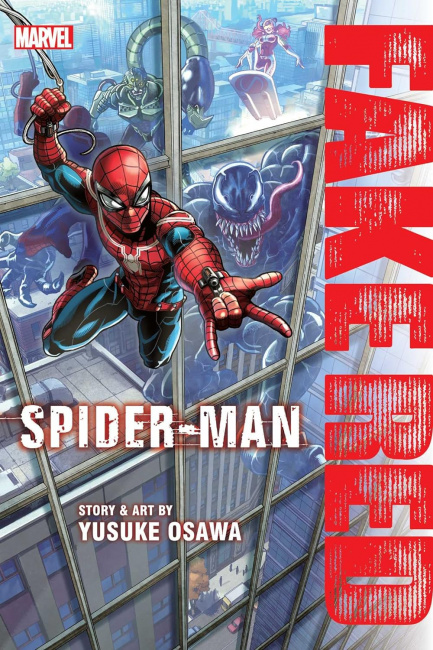 Don't forget the teens! Yusuke Osawa's
Spider-Man: Fake Red
blends the best of manga and superhero comics in a story about a high-schooler, Yu, who finds a Spider-Man suit and is suddenly thrust, reluctantly, into the role of superhero when the real Spidey (Peter Parker) disappears. The chunky, 328-page manga is complete in one volume and doesn't assume the reader knows more than the most basic facts about the characters. (VIZ Media; Ages 12+; $14.99)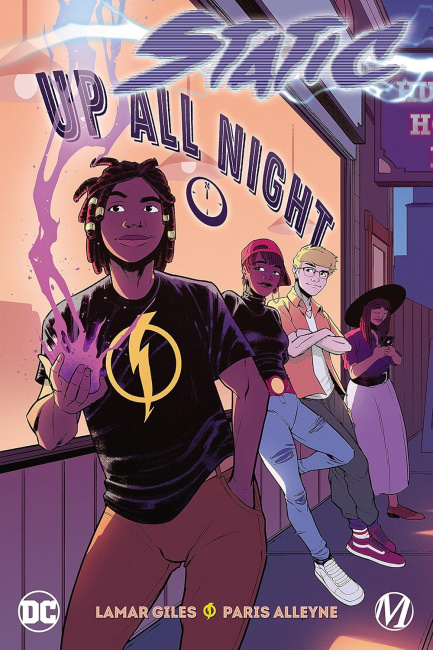 DC's
Static: Up All Night,
by Lamar Giles and Paris Alleyne, is due out on November 7. The YA paperback is the first of DC's original graphic novels to feature a Milestone character (see "
DC Announces Three Original YA Graphic Novels for 2023
"). (Ages 13-17; $16.99)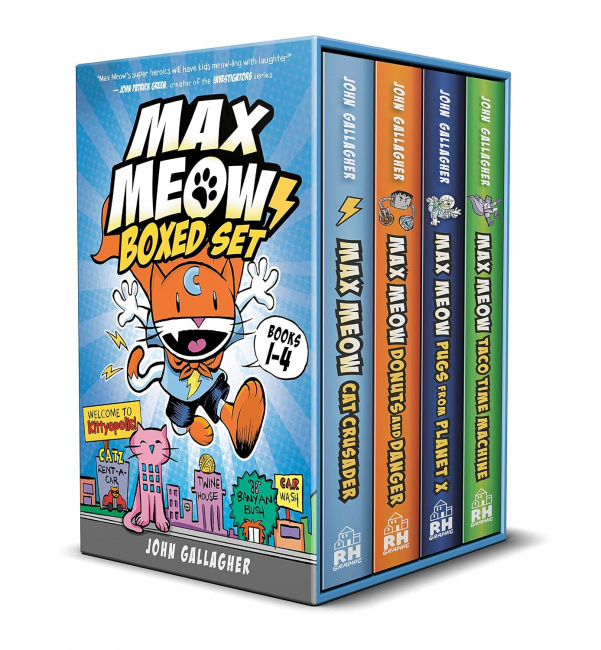 For a lighter take,
Max Meow Box Set: Welcome to Kittyopolis
collects the first four volumes of John Gallagher's lighthearted, pun-filled graphic novels about a feline superhero. (Ages 7-10; $55.96). And speaking of funny animals, John Patrick Greene's
InvestiGators: All Tide Up
, the latest volume of his secret agent spoof, is silly enough to make even adults laugh (especially those old enough to remember
Get Smart
). (First Second; Ages 7-10; $12.99)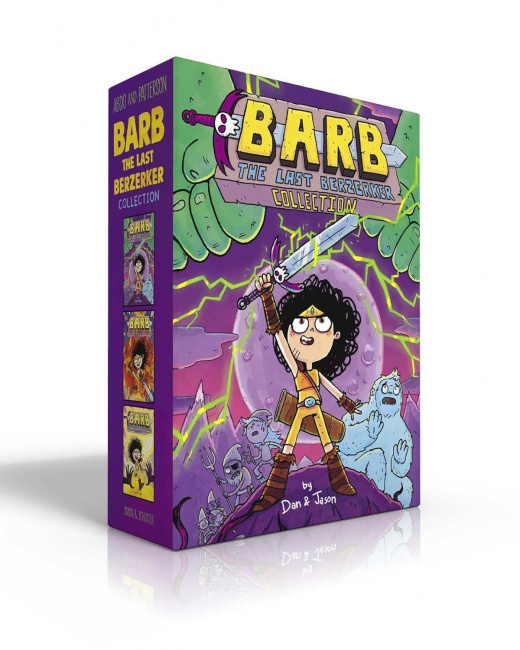 Dan Abdo and Jason Patterson's fantasy adventure series
Barb the Last Berserker
is the story of a Berzerker girl and her friend Porkchop, a yeti, who set out on a quest to rescue her fellow Berzerkers. The story has a lot of heart and plenty of laughs, and the complete trilogy is now available as a boxed set (Simon & Schuster Books for Young Readers; Ages 8-12; $41.99)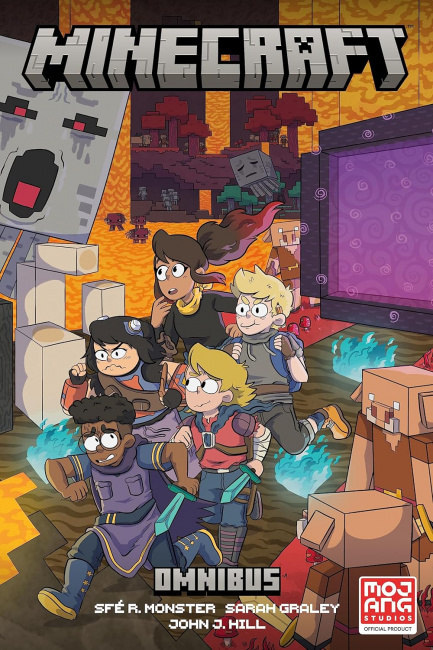 There are plenty of comics for gamers to enjoy as well, whether they prefer video games or RPGs. Dark Horse has just omnibized the first three volumes of their
Minecraft
graphic novels by Sfé R. Monster and Sarah Graley.
Minecraft Omnibus,
Vol. 1, a 232-page trade paperback, is due out on November 22 (Ages 8 and up; $19.99)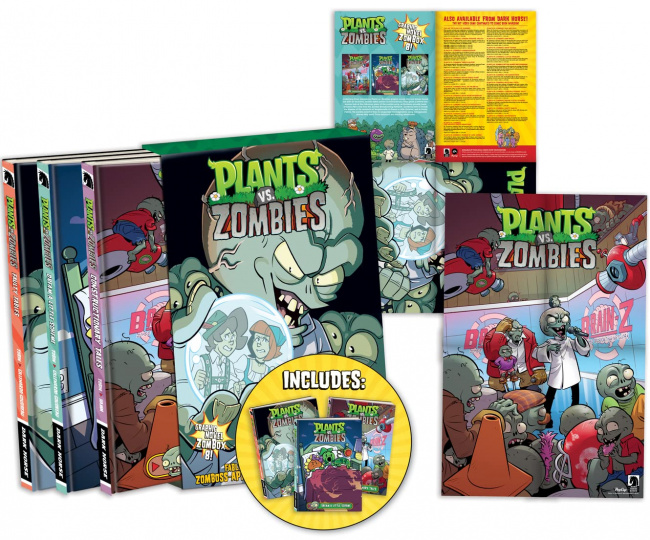 Dark Horse's
Plants vs. Zombies
series is kind of amazing – writer Paul Tobin took a very simple video game, came up with a plot for it, and so far hasd managed to spin it out for 22 volumes. These graphic novels are always fresh and funny, a good pick for fans of the game and total n00bs alike.
Plants vs. Zombies Boxed Set 8
collects vols. 18, 19, and 20 of the series, all stand-alone stories, with art by Jesse Hamm and Christine Gillenardo-Goudreau. (Ages 10 and up; $32.97)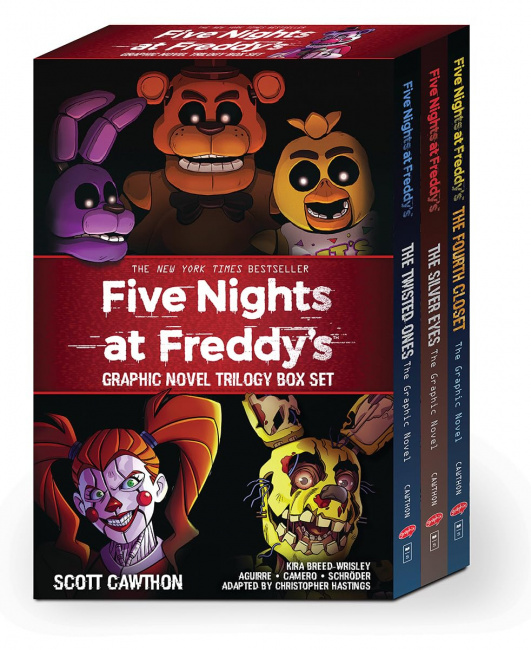 For teens, the
Five Nights at Freddy's
YA graphic novels have been consistent best-sellers (see "
Top Kids Graphic Novel Franchises Spring 2023
"), and now readers can experience the full story of Freddy Fazbear's pizza parlor in
Five Nights at Freddy's: Graphic Novel Trilogy Box Set
(Graphix; Ages 12 and up; $38.97)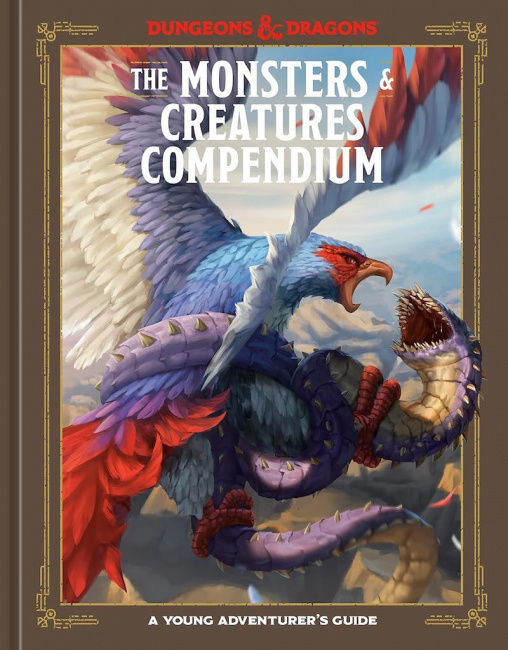 While they're not comics,
The Dungeons & Dragons Young Adventurers Guides,
by Jim Zub, Stacy King, and Andrew Wheeler, break down aspects of the game for middle-grade readers. New this year is
The Monsters & Creatures Compendium,
a 256-page hardcover that gathers up all the creature profiles from the first six volumes and arranges them alphabetically, like an encyclopedia. (Ten Speed Press; Ages 8-12; $24.99). The latest volume in the series,
Places & Portals,
came out in September. ($13.99)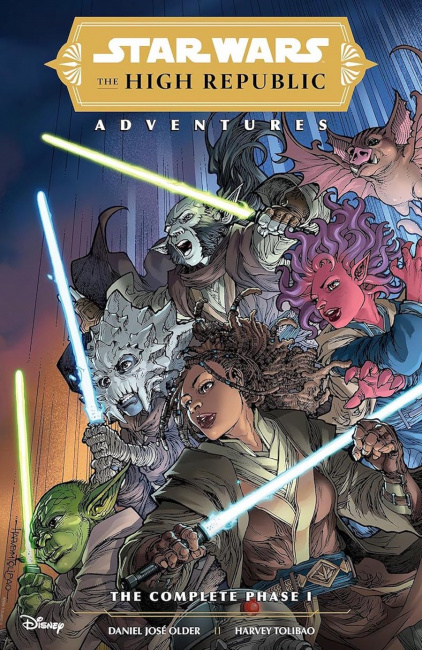 Star Wars: The High Republic Adventures: The Complete Phase I,
by Daniel José Older and Harvey Tolibao, delivers a satisfying, 368-page chunk of Star Wars storytelling in a single paperback volume. This volume collects the 12-issue Star Wars: The High Republic series, half of which was produced by IDW before the license moved to Dark Horse and has never been collected before, along with The Galactic Bake-Off Spectacular one-shot (see "
Two All-Ages 'Star Wars' Collections Coming from Dark Horse
").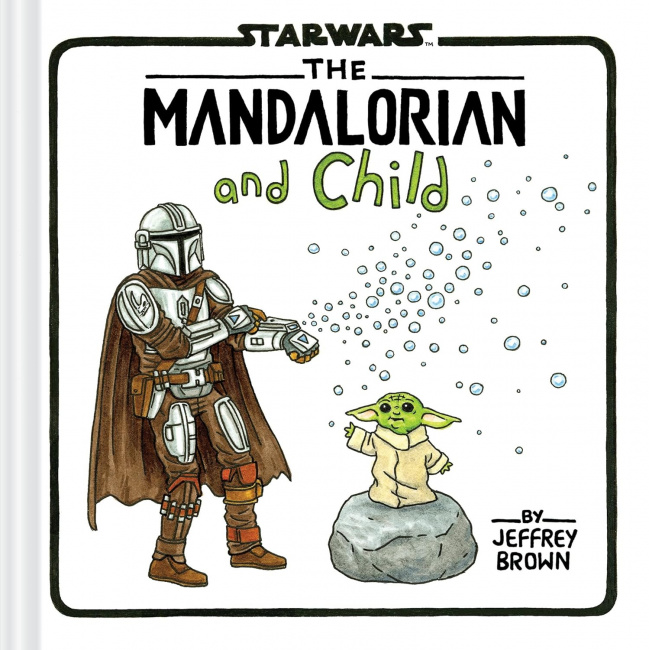 Jeffrey Brown serves up Star Wars fun for the whole family in
The Mandalorian and Child,
a sweet little square-format hardcover that's due out from Chronicle Books on November 7. Pair it with 2021's
A Vader Family Sithmas
for a Star Wars holiday duo (Ages Preschool and up; $14.95).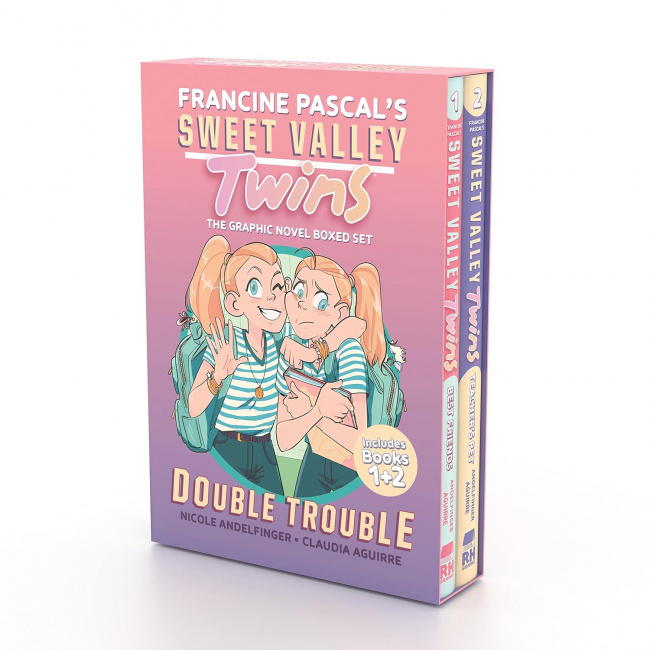 School drama is perennially popular among middle-graders, and since there are only a finite number of Baby-Sitters Club books, Random House Graphic's adaptations of Francine Prose's Sweet Valley Twins books are a welcome addition. The
Sweet Valley Twins Double Trouble
box set includes the first two volumes of the series, Best Friends and Teacher's Pet (Ages 8-12; $27.98)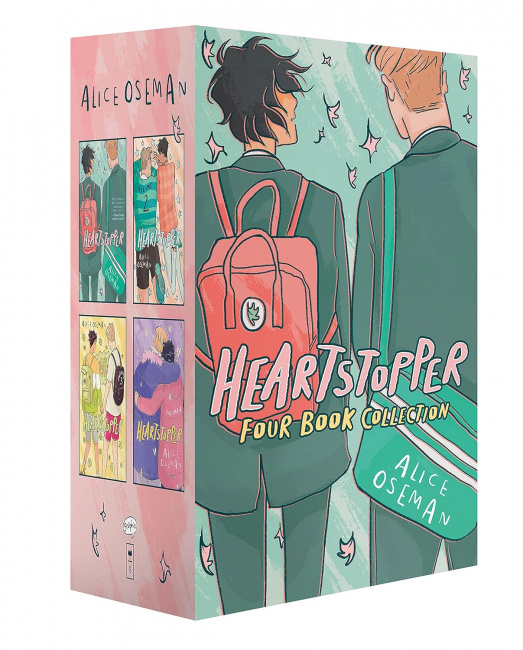 Alice Oseman's LGBTQ+ romance Heartstopper, originally published as a webtoon, has been a runaway hit for Graphix, and with the fifth volume due out on December 12 (see "
'Heartstopper' Update
"), there's no better time to pick up the Heartstopper #1-4 Box Set (Age 14 and up; $59.96)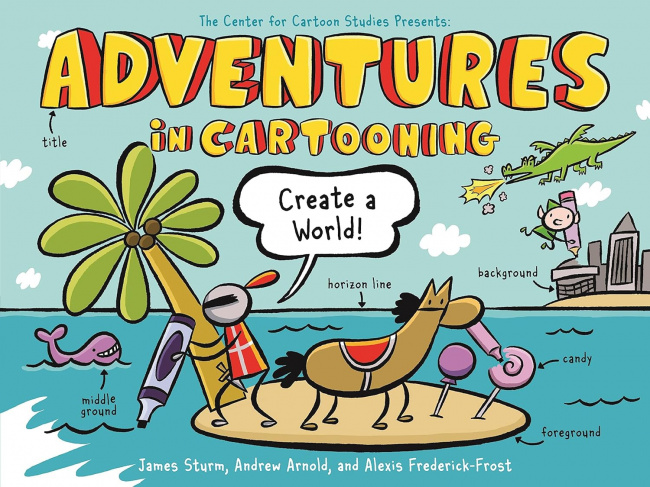 Adventures in Cartooning,
by James Sturm, Andrew Arnold, and Alexis Frederick-Frost, was first published back in 2009, which means the first kids who got their hands on it will be heading to art school soon. First Second did a new printing this year, along with an "enhanced version" of the second volume,
Adventures in Cartooning: Characters in Action!,
to go with the brand-new third volume,
Adventures in Cartooning: Create a World.
All three are colorful landscape-format paperbacks that offer simple exercises and encouraging words to young artists. Pack up all three with a sketchbook and some markers and watch the magic happen. (Ages 6-10; MSRP: $18.99 per book)
For more great suggestions for gifts merchandising this holiday season, click here.