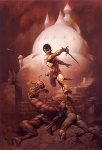 Jon Favreau has been signed by Paramount to direct the movie based on the Edgar Rice Borroughs property John Carter of Mars. Favreau directed Elf and the soon-to-be-released Jumanji sequel Zathura.
The John Carter of Mars film has been in development for several years (see 'Paramount Takes a Flyer on John Carter of Mars').

There's a script, written by Mark Protosevich (The Cell) and rewritten by Ehren Kruger (Scream 3, The Ring, The Brothers Grimm).

Ain't It Cool News' Harry Knowles is co-producing.