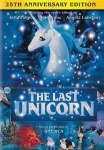 Lionsgate is planning a February 6th release of The Last Unicorn 25th Anniversary DVD ($19.98), an animated cult classic based on the fantasy novel by Peter S. Beagle. Although The Last Unicorn was previously released on DVD in 2004, it was a poor quality 'pan-and-scan' version. The new 25th Anniversary DVD has been fashioned from the German DVD release and is presented in anamorphic widescreen with a Dolby 5.1 soundtrack that shows off the considerable vocal talent involved in making the 1982 film that included Jeff Bridges, Angela Lansbury, Mia Farrow and Rene Auberjonois. Given the cult status of the film, this DVD should find favor with its numerous fans.
Peter S. Beagle, who is still involved in a bitter dispute with Granada, the company that produced the film, nevertheless holds no ill will towards Lionsgate. Beagle provided a video interview, which is one of the 'extras' on the new disk, and he supports the new DVD release because he feels that fans of the film deserve a decent version, which the 2004 release definitely isn't.
Anime fans also might want to check out The Last Unicorn, since although it was written and produced in the U.S. by Rankin/Bass, it was animated in Japan by Topcraft Studios, a company that was the predecessor of the Studio Ghibli, and employs a bright primary color scheme that recalls the early work of Miyazaki (see 'The Last Unicorn's Anime Connection').