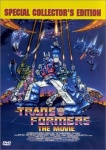 ICv2 is pleased to present our top five Movie/TV Merchandise stories of 2001. These rankings are based on the response of our users and our own assessment of the business impact of these events on pop culture retailers.
1.Retro cartoons drive sales. Whether it was the DVDs of the cartoons themselves (see 'There's Gold in Old Cartoons'), toys based on the cartoons (see 'Hasbro Q3 Surprisingly Strong'), or the comics (see 'G.I. Joe #2 Sells Out,' 'Image Goes Back to Press on G.I. Joe #1,' or the comics With more products in the pipe from Transformers, G.I. Joe (see '80s Comics Return as Trades,' 'Dreamwave Gets Transformers'), Micronauts (see 'Devil's Due Gets Rights to Micronauts,' Masters of the Universe and more, this is a trend that will probably expand in 2002 as gen-Xers recapture their lost youth and younger consumers are exposed to these properties for the first time.
2.DVDs provide opportunities for pop culture retailers. This is really two stories. One is the rapidest shift in AV formats in history, as DVD sell-through numbers broke record after record in 2001 (see 'DVDs Breaking Records Every Other Week'). The other is the merchandising opportunity (see 'Pop Culture Stores and DVDs') created by the unique characteristics of the format (with such products as Matrix Revisited, see 'Matrix Revisited DVD Now in Stores') and the archival possibilities for collectors (see 'DVD Sales Continue to Climb').
3.Movies exponentially expand small press graphic novel sales. Two theatrical releases, one major and one minor, drove sales of the graphic novels on which they were based in similar ways this year. Ghost World was a minor release in dollars but got great reviews and made the graphic novel Fantagraphics best-selling title in history (see 'Ghost World Still Going Strong'). From Hell, on the other hand, was a big budget release that won the box office battle on its opening weekend (see 'From Hell Wins Box Office') and likewise sold lots of the books on which it was based.
4.Lord of the Rings -- a new franchise. Lord of the Rings opened big at the box office (see 'LOTR Breaks December Record'), , but more importantly for pop culture retailers, it's been creating new sales opportunities for months (see 'LOTR Expected To Be Pop Culture Store Winner'), on the books (see 'LOTR Books Selling Now'), toys and collectible figures, and games. With another two years ahead and a wealth of fantasy material to draw from, especially in the game industry, pop culture stores are going to have an opportunity to garner many new sales and customers from the revival of this great fantasy property (see 'This Generation's Star Wars?').
5.Most movies slow in pop culture stores.

While Lord of the Rings was driving product sales, other genre or animated blockbusters provided little impetus to sales in pop culture stores this year (for example, see 'Shrek Sales Slow in Specialty Stores,' or 'Retailers Wary of Harry (and Monsters, Inc.)').

With the window for selling movie merchandise shrunk by early release embargos on images, quick drop-offs after big opening weekends, and aggressive competition from mass merchants and specialty retail chains, many pop culture stores have passed on movie merchandise or cut back to a limited number of skus.

Two tests in 2002 -- will pop culture stores find ways to exploit the opportunities presented by Spider-man and Episode II?