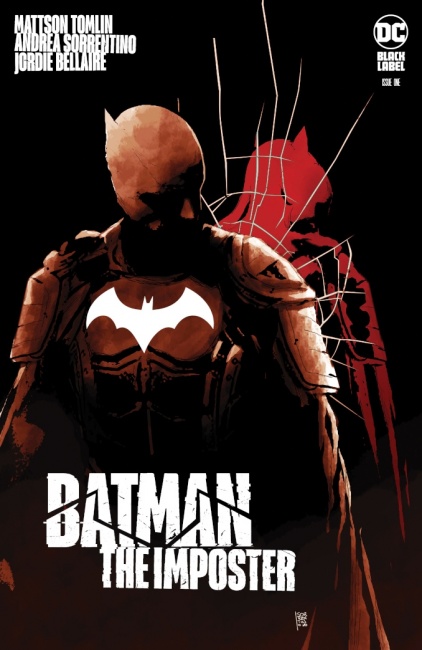 Batman: The Imposter #1 (of 3)
Publisher: DC Comics
Release Date: October 12, 2021
Cover Price: $6.99
Writer: Mattson Tomlin
Artist: Andrea Sorrentino
Colors: Jordie Bellaire
Cover(s): Andrea Sorrentino (Main), Lee Bermejo (Variant), Kaare Andrews (1:25 Variant)
Format: 48 pgs., Full-Color, Prestige Format
Rating: Mature
Publisher Description
: This October, Batman fans get a new and different look at Gotham's guardian as he begins his war on crime in
Batman: The Imposter
, a three-issue Prestige format series from DC Comics.
Director and screenwriter Mattson Tomlin (
Project Power
,
Little Fish
) has teamed up with Eisner-winning suspense and horror artist Andrea Sorrentino (
Joker: Killer Smile
,
Batman: The Smile Killer
,
Green Arrow
) to create a gritty, hard-boiled version of Gotham City, where every punch leaves a broken bone and every action has consequences far, far beyond Batman's imagination!
Bruce Wayne's mission as the Batman has only been under way for a year or so, but he can tell he's making a difference. Unfortunately, he's made some powerful enemies. All the traditional power brokers of Gotham resent the disruption the Batman has brought to town…and it seems one of them has a plan to neutralize him. There's a second Batman haunting Gotham's rooftops and alleys—and this one has no qualms about murdering criminals, live and on tape.
With the entire might of the Gotham City Police Department and Gotham's rich and powerful coming down on his head, Batman must find this imposter and somehow clear his name… but how can you prove your innocence from behind a mask?
On sale Tuesday, October 12, 2021.
Click Gallery below for full-size images.