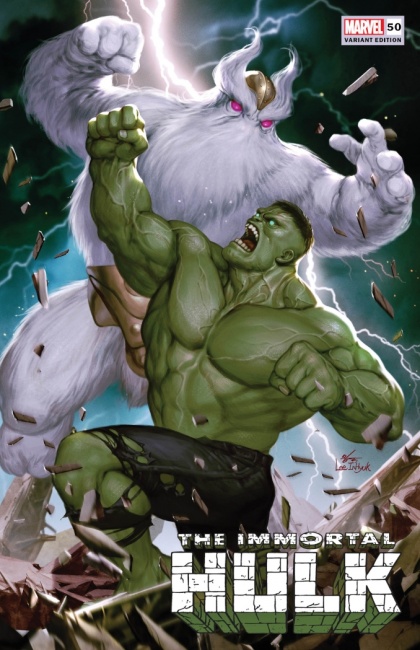 Publisher Description
. The end of one of the critically-acclaimed comic runs in recent history arrives next month with
Immortal Hulk
#50, a special giant-sized issue that will present the epic conclusion to years of buildup, mystery, and Gamma-powered additions to the Hulk mythology. To celebrate the end of this journey, some of the industry's top artists have delivered outstanding "Immortal Moments" variant covers that depict some of the highlights of the last 49 issues.
These eight covers will allow readers to relive the following moments from throughout this incredible saga:
Ron Lim immortalizes Hulk's discovery of the gamma-irradiated father of Del Frye from Immortal Hulk #2
Ed McGuinness immortalizes the brutal brawl between the red Absorbing Man and Hulk from Immortal Hulk #9
Gary Frank immortalizes the climactic moment of the "Hulk in Hell" arc where Devil Hulk lets Bruce know he'll always protect him from Immortal Hulk #13
Carlos Pacheco immortalizes the debut of the Rick Jones/Abomination hybrid from Immortal Hulk #17
Creees Lee immortalizes Hulk's initial confrontation with Betty's new manifestation of her Red Harpy persona from Immortal Hulk #19
Sanford Greene immortalizes the glimpse of Hulk's potential future as the Breaker of Worlds from Immortal Hulk #25.
InHyuk Lee immortalizes Hulk squaring off against his Roxxon-backed replacement, Xemnu, from IMMORTAL HULK #31
Jen Bartel immortalizes the reveal of the Devil Hulk's true look from Immortal Hulk #38
Check out all eight now and be there for the end to this historic run when Immortal Hulk #50 hits stands on October 13!

Immortal Hulk #50
Written by Al Ewing
Art by Joe Bennett

Click Gallery below for full-size images.