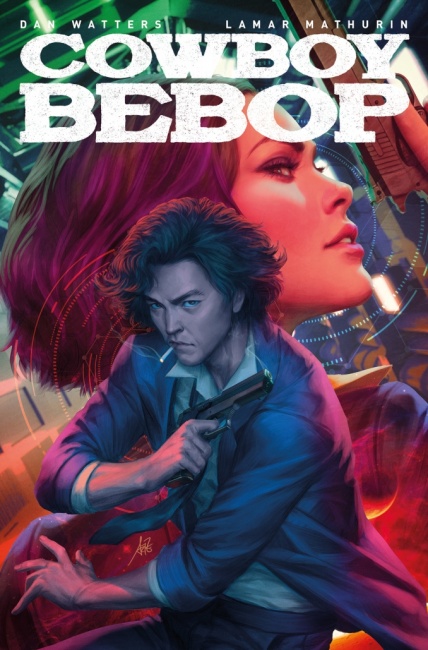 Cowboy Bebop #1
Publisher: Titan Comics
Release Date: January 19, 2022
Cover Price: $3.99
Writer: Dan Watters
Artist: Lamar Mathurin
Cover(s): Various (see below)
Format: 32 pgs., Full-Color
Rating: 14+
Publisher Description
. Based on the Netflix live-action adaptation of the original anime! An original story set in the year 2171. The bounty hunter crew of the spaceship Bebop chase an ex-gang member who holds a vest which gives the wearer unlimited luck.
New Netflix series starring John Cho (
Star Trek
), Mustafa Shakir (
Luke Cage
) and Daniela Pinada (
Jurassic World: Fallen Kingdom
).
Issue #1 Covers:
Cover A: Stanley 'Artgerm' Lau
Cover B: Photo
Cover C: Claudia Ianniciello (part of connecting covers set across #1-4)
Cover D: Afu Chan
Cover E: Yishan Li
Cover F: Stanley 'Artgerm' Lau B&W Variant
Cover G: Color Blank Cover (part of a set across #1-4)
Cover FOC: Yoshi Yoshitani Virgin Variant
Click Gallery below for full-size images.