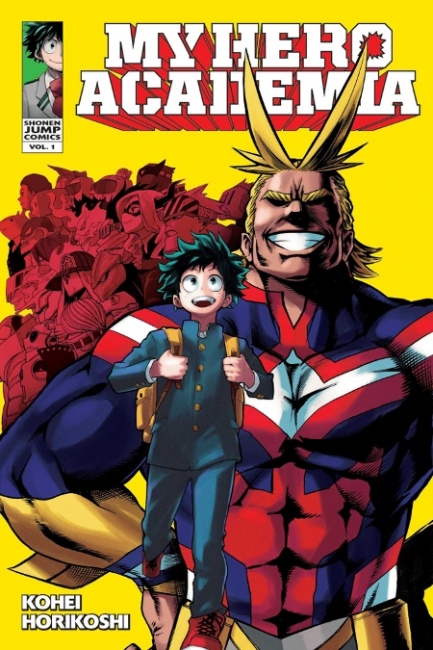 My Hero Academia Vol. 1 TP
Publisher: VIZ Media
Release Date: August 4, 2015
Price: $9.99
Creator: Kohei Horikoshi
Format: 192 pgs., Black & White, Trade Paperback
ISBN: 978-1-4215-8269-6
Age Rating: 13+
ICv2 Rating: 3 Stars out of 5
At first I thought that
My Hero Academia
was going to be
Tiger and Bunny
in a high school setting. After reading the first volume I'm pleased to say that while the premise may seem like that at first, there's a bit more depth to the story and characters that make this a bit more enjoyable than you might expect.
In this first volume we are taken into a world where 80% of the world's population are born with special powers known as quirks… well, except for middle school student Izuku Midoriya who was born with no special talents whatsoever. Still, despite that he dreams of someday attending a special high school that trains teenagers to become professional heroes.
One day the kid in school who bullies him mercilessly is attacked by a villain and Izuku jumps in to save him. Luckily for Izuku his favorite hero, All Might, happened to witness this act of bravery and decides to pass on his power to him so that he might one day become the superhero that he has dreamed of becoming his entire life.
For the most part,
My Hero Academia
is pretty average. The story comes across as very mediocre and the artwork is nothing particularly special. However this series shares one thing with its main character: infinite potential. Sure, this first volume didn't exactly blow me away with its plot or character progression but there is serious potential here and anyone who is a fan of superhero or underdog stories is going to be pulled in by the curiosity factor.
If there is one complaint that I feel is worth mentioning above anything else though it would be the fact that the text in the book can be very small at times. Whenever the main character gets nervous he starts to mumble and tries to cram a lot of dialogue into one little word bubble. A lot of dialogue that can only be fit into the word bubble if it is made very small and difficult to read. Don't be afraid to break out the magnifying reading glasses with this one or else you might miss something along the way towards the end.
This first volume isn't perfect by any stretch but superhero fans will get a kick out of seeing a group of fresh faced youngsters aiming to become the very best.
--
L.B. Bryant