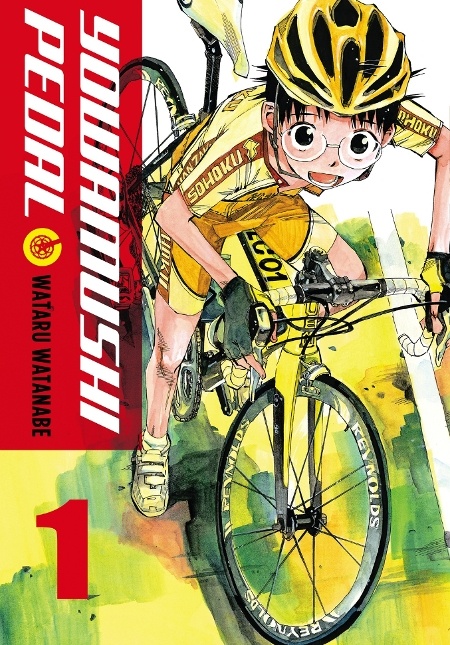 Yowamushi Pedal Vol. 1 TP
Publisher: Yen Press
Release Date: December 15, 2015
Price: $24.00
Creator: Wataru Watanabe
Format: 400 pgs., B&W, Trade Paperback
ISBN: 978-0-3163-0952-3
Age Rating: 13+
ICv2 Rating: 3 Stars out of 5
I am not a sports fan. In fact, I'd go as far to say that if you want to put me to sleep all you have to do is turn the TV on to just about any sports match. Sports anime and manga on the other hand is a completely different story. I absolutely adore watching the intense drama play out as I watch characters grow and change into something that they never thought possible.
In 2013, one such story titled Yowamushi Pedal (or Yowapeda) was adapted into an anime series and I was absolutely floored. Who knew that bicycle racing could be so incredible to watch?
In this story, the main character is a student named Sakamichi Onoda who has just started his first year of high school. An overall otaku, all he wants to do is reform the anime club, make some friends and ride the 90km round trip on his bike with his new friends to Akiba on a weekly basis. That's not too much to ask is it? After word gets around that he makes this kind of trip on a weekly basis, he is recruited into the bicycle racing club and his entire life changes.
The problem with sports manga is that while they can be intense, it can be hard to feel that intensity without the whole package that an anime delivers when reading a book. The animation, the music, the inner monologue being said out loud in a tired voice… all of these things contribute to the bigger picture which makes sports stories so much fun to see play out and Yowapeda just doesn't manage to capture that in manga form.
The majority of this first volume is set up for the characters and establishing just how strong of a biker Onoda is and wow do they hammer that point into the reader's head. Just about every chapter features Onoda on a bike going somewhere with a running commentary on just how powerful and talented he is.

The reason why this volume is rated as highly as it is though is because this set up works for the series. What the volume lacks in intensity is made up for with heart and soul. Onoda is an average kid who has no idea that he is actually fairly talented and powerful but he is slowly learning that fact and I'd be willing to bet money that once the real races begin the intensity is going to grow by leaps and bounds.

Additionally, it's impossible to ignore the fact that despite this volume being a 400 page omnibus edition the pacing is very well done. You might not make it through this release in one sitting but once you pick it up and start reading you're going to find that time will fly past and hours might pass you by while you're reading. While many volumes of manga are easy to read and digest in a couple of hours making it hard to gauge their value, the first volume of Yowapeda is well worth it's price point which is not something that reviewers get to say very often.

Yowapeda is a sports series that has been long overdue for an English release and Yen Press is doing fans a great service by releasing it here in the U.S. This first volume might feel like an uphill climb to get through at times but once this story peaks, it's going to be an incredible ride all the way to the finish line.

--L.B. Bryant