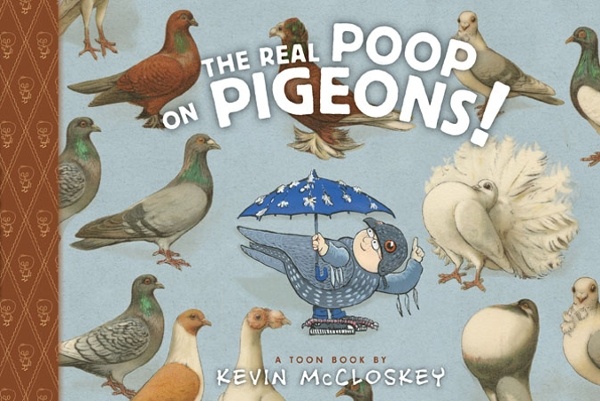 The Real Poop on Pigeons! HC
Publisher: TOON Books
Release Date: 2016
Price: $12.95
Author: Kevin McCloskey
Format: 36 pgs., Full-Color, 6-1/4" x 9-1/4", Hardcover
ISBN: 978-1-9351-7993-1
Age Rating: All Ages
ICv2 Rating: 4 Stars out of 5
This is a clever introduction to pigeons as birds, rather than just as something to shoo away from your lunch. A group of small children in pigeon costumes is something you don't expect to see, but that's who shows up to educate an adult on the world of pigeons. This surreal conversation leads to some beautiful illustrations of various varieties of pigeons. Because the book is aimed at young children, the discussion of breeding is limited, and fails to clarify the idea that people breed pigeons for specific characteristics, even though those characteristics are discussed right after.
Even with that omission, the facts about pigeons, including some of the other birds related to them, is a lot of fun. Most parents will learn a lot from the book as well, ranging from facts about Dodos to what "pigeon milk" is, so this is a good book for a parent-and-child interaction.
There is even a bit of art history included, due to Picasso's fascination with pigeons. The facts and their presentation are appropriate for the age range of the book, which is aimed at early readers. The book even leaves room for a sequel about squirrels, but that's another story, and one to be hoped for if it matches the quality of this book.
Aimed at beginning readers, but entertaining for older as well.
--
Nick Smith: Library Technician, Community Services, for the Pasadena Public Library in California.