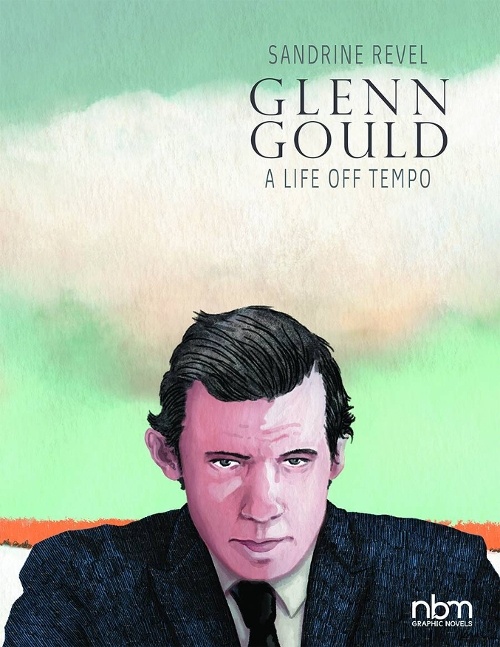 Glenn Gould: A Life Off Tempo HC
Publisher: NBM
Release Date: December 21, 2016
Price: $25.99
Creator: Sandrine Revel
Format: 192 pgs., Full-Color, 9-3/4" x 11", Hardcover
ISBN: 978-1-6811-2065-2
Age Rating: N/A
ICv2 Rating: 3.5 Stars out of 5
Glenn Gould is an intriguing subject for a graphic biography… a brilliant performer, but so quirky and weird that you probably wouldn't want to be around him. That is the only real weakness of this book, because the quirkiness sometimes dominates the story. Gould was a hypochondriac, probably suffered from an obsessive-compulsive disorder, and many other traits which combined to distance him from other people, but in this case also from the reader. The story includes multiple wordless panels of Gould simply sitting in an odd posture while playing the piano, and others of trying to find ways to sit in an odd posture, by raising the piano or lowering the bench. It might be best to read this book while listening to one of his recordings, because it really seems to need a soundtrack.
Even his performing and recording experiences were strange, but the book does a good job of conveying how his perfectionism informed his music, and why live performances did not interest him after a certain point in his career. The tragic loss of one of his beloved pianos is conveyed beautifully, especially since its demise was due to such mundane causes. The graphic medium increased the impact of the scene, in ways that a textual description could not.
Revel's artwork does a good job of conveying the story, and the man at the heart of it. It would be nice to see more of her work made available in English.
For music buffs and fans of graphic memoirs, this is an outstanding work, but others may be put off by the subject matter. Intended for adults, but teens with an interest in classical music may also find the book to be interesting.
--
Nick Smith: Library Technician, Community Services, for the Pasadena Public Library in California.