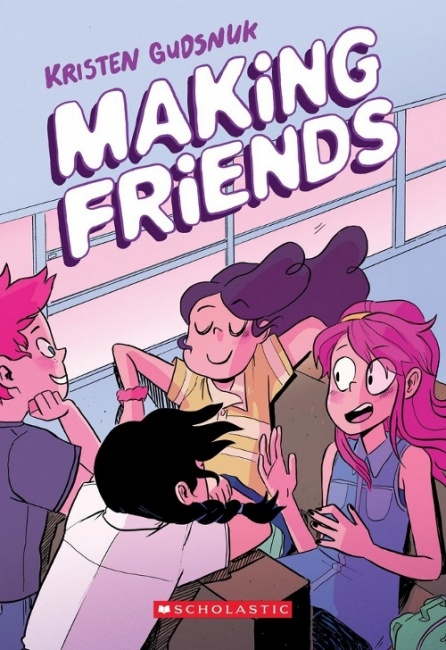 Making Friends GN
Publisher: Scholastic Graphix
Release Date: July 31, 2018
Price: $12.99 (TP)/$24.99 (HC)
Creator: Kristen Gudsnuk
Format: 272 pgs., Full-Color, 7"x9", Hardcover
ISBN: 978-1-338-13921-1 (TP), 978-1-338-13922-8 (HC)
Age Rating: 8-12 years
ICv2 Rating: 5 Stars out of 5
Kristen Gudsnuk puts a supernatural twist on the middle-school drama genre with a story about a girl who inherits a magic notebook that will create a real-life version of anything she draws—and uses it to literally make a new friend.
Danielle is feeling like a fish out of water in seventh grade, as all her sixth-grade friends have different schedules, and a boy is targeting her for bullying. When she draws her favorite anime character, Prince Neptune, he comes to life—but without a body, as she only drew his head. After a few more days of middle-school misery, she uses her newfound magic to make a real girl, Madison Fontaine, to be her cool best friend. At first they just have fun, as Dany draws magical rings that let them fly and stacks of money for them to spend at the mall, but soon Dany realizes that her made-up friend is now a real person, and that brings a whole host of issues—especially when Madison learns the truth. Meanwhile Prince Neptune, despite being just a "floaty head" becomes more and more ominous.
Gudsnuk has an easygoing, cartoony style that is reminiscent of Raina Telemeier, and the book will feel like familiar territory to Telgemeier fans, at least until the climax, when Prince Neptune reveals his true character and Dany and her friends become makeshift magical girls (and boy) to fight him off. Gudsnuk finds a lot of humor in the incongruities that arise when magic intrudes into middle-school life, and she also laces her story with grown-up wisdom, as she questions the basic middle-school values of conformity and popularity. She shows some genuinely startling family dysfunction but treats each character as a real person, with good and bad aspects, and she even gives some context for how the bully and a violent goth girl got that way. This nuance brings real depth to her story.
So yes, give
Making Friends
to the
Drama
and
Brave
fans who are looking for something more, but keep in mind that some older readers may enjoy it as well, especially fans of
Henchgirl,
Gudsnuk earlier graphic novel, a hilarious mashup of supervillains and twentysomething webcomics characters.
Making Friends
is aimed at a younger audience, but her humor and subversive wisdom light up this book as well.
--
Brigid Alverson